Bachna Ae Haseeno
(2008)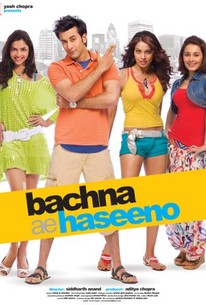 AUDIENCE SCORE
Critic Consensus: No consensus yet.
Movie Info
Why do girls always fall for the wrong guy? Their mothers warn them about him. Their friends shake their heads disapprovingly. Their minds tell them to escape while the going is good. But no! oh no! Their hearts are another story. You see, they are sending all the wrong signals. His name alone is enough to scramble their brains and set their hearts racing.Meet Raj. He is the stuff of dreams, with the looks of a 'butter wouldn't melt in my mouth' good boy. Who can blame him for falling in love as many times as love is fortunate enough to find him. It's not his fault that he's a heartbreaker, it's in his DNA. Come discover his three love stories; Raj and Mahi, Raj and Radhika, Raj and Gayatri. Different lady loves at different times in his life. And each of them, teach him a little bit about love and a little bit about life, in their own sweet, sexy or sassy way.Come fall in love... three times.
Critic Reviews for Bachna Ae Haseeno
All Critics (4) | Top Critics (3) | Fresh (3) | Rotten (1)
Two and a half hours of this will try anyone's patience, so stave off the boredom by speculating about Kapoor and Padukone's off-screen romance; it looks like all that angsting paid off.
Bachna Ae Haseeno grows more serious and interesting as it contemplates the various permutations of romance in a culture with rapidly changing sexual mores.
New York Times
Top Critic
Siddarth Annan's light romantic comedy takes an abrupt, 11th-hour turn for the melodramatic that imbues it with unexpected resonance without seeming completely contrived.

Audience Reviews for Bachna Ae Haseeno
OMG iluv this movie.Ranbir kapoor is so so cute.I love the way he dance in the begining of the movie.I love the actorees too.all three of them are pretty.But i like Deepika Padukone more than the other 2.I love the song lucky boy and the song that played in the beginning of the movie.I love this movie!!!!!!!
shaliza wahab
½
This movie was very different than I expected. When they were talking about three loves in one lifetime, etc, etc, I thought they were really talking about love. That is the mindset I went in with. *SPOILER ALERT* Unfortunately, it quickly becomes clear that Raj is a complete jerk. He uses and abuses women in quick succession, makes them love him, then leaves them (sometimes at the alter), after getting what he wants from them, until meeting a woman who knows his ways, knows his past, and has absolutely no intention of marrying. Then he proposes to her, she refuses, and he vows to fix his past. He tracks down his past lovers and tries to right the wrong he's done. There were things I really liked about the movie. It has lots of singing. It has a good plot, and very, very good dialogue. Things I didn't like about the movie: Raj is not in any way attractive. I fail to see how he gets so much play in the movie. His psychobabble gets women from his past to forgive him too easily...I don't think it would be that easy. Mahi always looks like she's been crying, even when she's supposed to be happy in the movie. Not a five star movie by any stretch, but definitely worth seeing.
Stephanie K.
Bachna Ae Haseeno Quotes
There are no approved quotes yet for this movie.
Discussion Forum
Discuss Bachna Ae Haseeno on our Movie forum!