Back Door to Hell
(1964)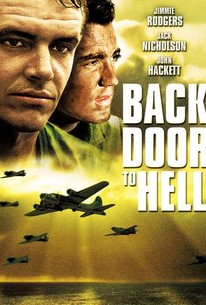 AUDIENCE SCORE
Critic Consensus: No consensus yet.
Movie Info
In this WW II actioner, three soldiers are assigned to gather desperately needed information about Japanese occupation in the Philippines as the US prepares a major attack. During their arduous jungle journey, the soldiers lose their radio transmitter. Now totally on their own, the two not only succeed with their mission, they also manage to capture a Japanese outpost.
Audience Reviews for Back Door to Hell
½
In "Back Door to Hell," Craig(Jimmie Rodgers), Burnett(Jack Nicholson) and Jersey(John Hackett) are on a secret mission to Japanese occupied Philippines during World War II. They are assigned to scout out a possible invasion zone and to meet up with Miguel. Except they meet up with Paco(Conrad Maga) instead who tells them Miguel is dead and by his hand. Oh and the Japanese know the Americans are there and have taken the village's children hostage. With some uneven acting, "Back Door to Hell" might also be a little rough around the edges at times due to its very low budget. But it's still suspenseful in spots with a neat use of locations. Much more importantly is that it allows for a Filipino point of view, implying 50 years of difficult relations between the United States and the Philippines.(In point of fact, Paco is by far the most interesting character here.) In general, we get some early and valuable insight into guerilla warfare, along with a required reading list for guerilla leaders.
½
He says he knows nothing; and if he did, he would tell you nothing. A World War II mission to take down a Japanese communication center goes belly up from the beginning. The American soldiers are left no choice but to trust a Filipino Gorilla Army to shot their way across the country and hopefully take down the communications tower. "Are you suggesting that we hold her for a hostage?" "No. I will just cut her tongue out." "That sounds reasonable." Monte Hellman, director of Two-Lane Blacktop, The Shooting, Iguana, Ride in the Whirlwind, Road to Nowhere, and Cockfighter, delivers Back Door to Hell. The storyline for this picture is just okay and a bit frustrating at times. The action scenes are pretty good and the acting is above average. The cast includes Jack Nicholson, Jimmie Rodgers, John Hackett, and Conrad Maga. "Are we their friends or are we their prisoners?" "Does it matter?" I DVR'd this picture off Encore because it starred the legendary Jack Nicholson. The story for this picture was kind of bland but the characters were okay. This was definitely a subpar picture starring the legendary Nicholson that is only worth seeing if you are a fan of his work. "You and your men, come with us." Grade: C
Kevin Robbins
½
A not very inspired movie. It is interesting to see the Philippine resistance but beyond that there is not much to enjoy as the action is rather dull.
Ben Gui
Back Door to Hell Quotes
There are no approved quotes yet for this movie.
Discussion Forum
Discuss Back Door to Hell on our Movie forum!