Back to the Beach
(1987)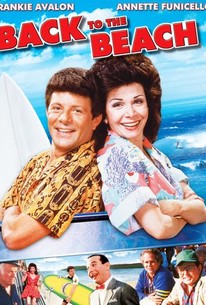 Movie Info
Frankie Avalon and Annette Funicello not only starred in the delightfully "retro" Back to the Beach, but also served as executive producers. Appropriately set 25 years after such drive-in faves as Beach Blanket Bingo, the film finds Frankie and Annette as husband and wife, living far from the surf 'n' sand in Ohio. Heading to California to visit their daughter Lori Loughlin, Frankie and Annette are appalled to learn that she has been keeping time with punker Tommy Hinkley. In time-honored fashion, our hero and heroine set about to make the beach safe for funlovers everywhere by driving out Hinkley's unsavory pals. Along the way, Frankie nearly bollixes up his marriage by dallying with Connie Stevens-one of several pop-culture icons appearing in Back to the Beach, including Don Adams, Bob Denver, Jerry Mathers, Tony Dow, Dick Dale & the Del-Tones , Stevie Ray Vaughan, and even Pee-wee Herman! Back to the Beach is fun for a while, but its six-person writing team can't figure out a logical way to wind it all up.
News & Interviews for Back to the Beach
Critic Reviews for Back to the Beach
Audience Reviews for Back to the Beach
Back to the Beach was something that I thought was pretty awesome as a kid. It sucks in modern times but remains a curiosity from the 80's as how did a major studio put out a beach movie filled with stale baby boomer appearances and relying on the power of Frankie and Annette? Yes beach party movies can be fun and way entertaining but not really here. Aside from the great Pee-Wee doing Surfin Bird this is pretty much a dud
Rodney Eckrich
½
When a couple decide to visit their daughter at their old beach resort, trouble and mayhem follow them at every turn. An updated 80's version of the old "Beach" movies from the 60's brings out an all star cast with a few great songs. Fans of the cast make this cult classic a must see and own!!!!!!!!!!!!
Leo Blaschke
How do you rate this kind of movie? Of course it is low budget and all kinds of cheesy, but it accomplishes everything it sets out to do and sure is a fun ride! Any fan of the original Frankie & Annette beach movies will get a kick out of this flashback. Suburban life has made this fun loving couple dull. What could prove a more effective remedy than a trip to LA to visit their grown-up daughter and a stop at all their youthful hangouts? This is not without trouble first. Insert silly music and cameos such as Gilligan and the Skipper, The Beave and Wally, Dick Dale and the Del-Tones, and best of all Pee Wee Herman and you can't go wrong if good, campy fun is what you're looking for!
Jakki Jelene
Back to the Beach Quotes
| | |
| --- | --- |
| Himself: | Annette says I'm no fun any more. I'm fun, are you fun? |
| Connie: | Honey. I'm an amusement park. |
Discussion Forum
Discuss Back to the Beach on our Movie forum!