Backcountry
(2015)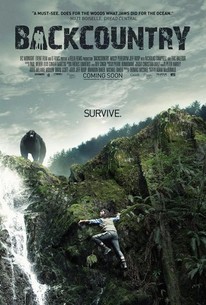 TOMATOMETER
AUDIENCE SCORE
Critic Consensus: Tense, well-acted, and at once atmospheric as well as brutally impactful, Backcountry marks a memorably assured debut from writer-director Adam MacDonald.
Movie Info
In this terrifying and critically-acclaimed thriller, a young couple's romantic camping trip becomes a tale of survival as they face the darkest side of nature: a man-eating bear. (C) IFC Films
News & Interviews for Backcountry
Critic Reviews for Backcountry
Audience Reviews for Backcountry
½
The film is well acted and has some clever atmosphere but the finale is the worthy shot of the films duration. The only real problem was the films ambition couldn't live up to the films budget, the scope just outweighs the real threat. The chemistry of the two leads is the real saviour here, you can feel the hurt when the inevitable threat comes to a head. The film is beautifully shot, you can see where the bulk of the budget was spent and that isn't a bad thing. The bear is terrorizing once the film plays that card and while the bloody moments aren't that impactful you can overlook the filmmakers for not constructing that scene better. I had heard that this was a worthy film to watch and it was a well constructed but slightly flawed film. Great indie filmmaking. 30-07-2017.
Brendan Nicholls
Super Reviewer
½
Decently acted and includes a truly horrifying yet mostly impressionistic bear attack, but takes a looong time to get to the survivalist (read: interesting) part of the story. An encounter with outdoorsman Eric Balfour as a potential threat is a complete waste of time, and even though this is based on a true story I'm afraid to say there is very little substance surrounding the events to distinguish it from other nightmarish hiking tales.
Doctor Strangeblog
Super Reviewer
½
I wouldn't necessarily call this a horror film, but it's also proof that horror films can be incredibly effective when they draw inspiration from something that's real. Something that the average person can look at and go 'that could happen to me'. Jaws worked so well because of that. Now, granted, Jaws was special in the sense that they probably had to exaggerate certain things, but a shark attack is something that's still very real. The percentage of shark attacks are, very likely, minuscule, considering how vast the ocean is, but it's the idea that it could happen that made Jaws so effective. Same thing with this movie. The poster, honestly, is a little misleading, though I get the reasoning behind it. It makes it seem as if the entire film is the couple running away from this gigantic black bear, whereas the film is more just the camping trip from hell. Everything that could go wrong did, culminating with the bear attack. I think that's part of why this film might not have gotten as many positive audience reviews as it did from the critics. But I don't think that should be held against the movie since the marketing team is completely different from the rest of the crew. Honestly, if you're looking for a film about a vicious bear attack, you will get it for, about, 5 minutes. But, if you didn't notice, the film isn't 5 minutes long. There's a whole lot of time to fill with other stuff. And that sounds derisive, but I don't mean it that way, because I made it sound like everything else was filler, when it, in fact, wasn't. I think everything in the film made sense and it helped to get you one step closer to the film's desired goal. And, honestly, I think the leads are well-written characters that, while they may have their flaws, you certainly want to see them get out of this horrifying scenario. Getting lost in the woods, with no phone, no way to contact anyone for help and no map to guide you out can be a pretty harrowing experience in and of itself. I think the film does a good job at making just that, particularly to people who've never even been camping before, into a fairly scary experience. I think that's what every first time camper ends up worrying about. Getting lost, having no form of communication with the outside world and absolutely no idea where to go to get out. That's some pretty scary shit in and of itself. And then the bear attack itself happens. They tease the appearance earlier on in the film, when Jen and Alex are sleeping in the tent, but they hold it off until around an hour into the film and let's just say that it gets fucking serious really quickly. The bear attack itself might, seriously, be one of the more horrifying scenes I've seen in any film this year. There's a certain realism about the way that it is shot that is absolutely uncompromising. I don't get squeamish when I see realistic violence in films, and this film was no different, but I can see where some people might be bothered by the sheer brutality of the actual bear attack. And the thing is, you only get to see like really quick glimpses of it, to see some of the more gruesome stuff, you'd have to actually pause to be able to see. I think the quick glimpses works twofold in that it allows them to get by the MPAA with just an R-rating and it allows you to just sort of fill in the gaps into how violent these attacks can actually be. Honestly, the bear isn't really that much of a factor after the first attack. I mean you get glimpses of it following one of the characters, but it all becomes about survival. The bear is, for all intents and purposes, gone for the most part. I mean I'm sure it was still in the mind of the character that's trying to survive, but yea. I thought the acting was really good. Missy Peregrym and Jeff Roop have good chemistry with each other and I did like that their characterization is more subtle. Like you can tell that there's problems with their relationship and this camping trip is meant to be used as something of a fix to their issues. They never say this explicitly, of course, but you can notice it from their body language and they way they talk to each other sometimes. So yea, I really liked this movie. It's really damn good. It's a believable thriller that has one truly horrific scene. That might be enough for some people, but there's also some really strong acting and character development that makes you care for the characters and wanting to see them get through this experience. I'd definitely recommend it.
Jesse Ortega
Super Reviewer
Backcountry Quotes
There are no approved quotes yet for this movie.