Backlash: Oblivion 2
(1996)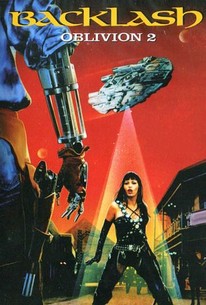 AUDIENCE SCORE
Critic Consensus: No consensus yet.
Backlash: Oblivion 2 Videos
Backlash: Oblivion 2 Photos
Movie Info
On the wild desert planet of Oblivion, a man called Sweeny comes to search for a corporate saboteur. Though deceptively dressed as a greenhorn city dude, Sweeny is the most effective bounty hunter in the galaxy. He stays in the town where she (he knows nothing about her) is supposed to reside. He finds plenty of suspicious women and even gets romantically involved with the widow Mattie Chase, stealing her away from her steady beau Marshal Adams. Like its predecessor, this feature attempts to create a fresh new genre by combining science fiction and western with comic elements.
Critic Reviews for Backlash: Oblivion 2
There are no critic reviews yet for Backlash: Oblivion 2. Keep checking Rotten Tomatoes for updates!
Audience Reviews for Backlash: Oblivion 2
[center][img]http://images.rottentomatoes.com/images/movie/coverv/38/219938.jpg[/img] [left][font=Courier New][size=2]There wasn't much I enjoyed with [i]Oblivion[/i], but I felt compelled to give [i]Backlash: Oblivion 2[/i] a chance since I had watched a couple Full Moon movies over the past couple of months. It had been a while since I last watch [i]Oblivion[/i], and was worried that I would have forgotten too much by now to fully understand this sequel. Good thing there was that really long recap sequence at the beginning of [i]Backlash[/i] that reminded me of what I had forgotten. Or is that a bad thing? I will say that I do like that the [i]Oblivion[/i] films fuse together science fiction movies with western movies. Kind of like how the television series [i]Firefly[/i] and its theatrical film [i]Serenity[/i] did, just with more cowboy hats. But much like the first film, [i]Backlash[/i] was unable to keep my attention through its run. And I sat there hoping this sucker would end already. It isn't because [i]Backlash[/i] is a low budget feature, but the movie just doesn't feel like a movie to me. The story is almost nonexistent, and the actors for the most part aren't giving their all to their roles. Plus the film makes the same mistake of having some of its cult actors (George Takei, Isaac Hayes, Julie Newmar...) make references to other more successful projects of theirs from the past. The one saving grace was Musetta Vander as Lash, a sort of Bettie Paige-like outlaw. Her performance is far from award worthy, but she does offer up an over the top performance that is livelier than the rest of the cast. She looked like she was having fun, and when she was on screen I was having fun as well. There are some minor elements that I thought worked; Miss Kitty's (Julie Newmar) twist in the plot, whatever that turtle monster was at the end of the film. But not enough to make me enjoy this film. As far as Full Moon series go, this is one of the weaker ones I have seen. Which is unfortunate since it has a lot of great ideas to it.[/size][/font] [/left] [/center]
Bryan Gomez
Backlash: Oblivion 2 Quotes
There are no approved quotes yet for this movie.
Discussion Forum
Discuss Backlash: Oblivion 2 on our Movie forum!