Backwoods
(2008)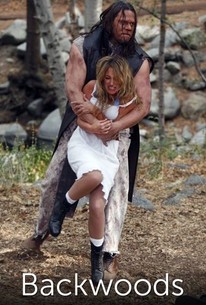 AUDIENCE SCORE
Critic Consensus: No consensus yet.
Backwoods Videos
Backwoods Photos
Movie Info
First-time 31-year-old director Koldo Serra's thriller The Backwoods (AKA El bosque de las sombras, 2006) re-charts thematic territory covered, in years prior, by such well-worn classics as Deliverance and Southern Comfort, and such B-grade horror pictures as Savage Island (2004). With their nuptials crumbling, a married couple from London in their early thirties, Norman (Paddy Considine) and Lucy (sensual Virginie Ledoyen of The Beach) opt to take some time out with a sojourn to northern Spain's Basque region, in the Pyrenees. They arrive at a renovated farmhouse run by Paul (Gary Oldman) and Isabel (Aitana Sanchez-Gijon) and are initially able to enjoy themselves, but the trip takes a decidedly ugly turn when Paul and Norman head out on a hunting expedition and discover a malformed, feral girl (an 'enfant sauvage') in a local cabin, apparently completely neglected. They transport her from the building in a sincere and honest attempt to help her, but only succeed in drawing forth the wrath of the savage and inbred local townspeople, who quake with rage at the thought of someone absconding with one of their own.
Rating:
R
Genre:
, ,
Directed By:
Written By:
In Theaters:
On DVD:
Runtime:
Studio:
LionsGate Entertainment
Cast
Critic Reviews for Backwoods
All Critics (0) | Fresh (0) | Rotten (0) | DVD (2)
By the time one of the terrorized characters in this hillbilly horror movie becomes desperate and suicidal, most audiences will be way ahead of her. Unfortunately we don't share her fear; only her hopelessness.

Audience Reviews for Backwoods
½
I suspect that many people didn't even make it past the first half hour of Backwoods, but thankfully the film does get somewhat better after that. The story begins very simply, with a group of computer geeks going on a corporate retreat in the woods. In typical horror movie fashion, they get lost on the way and ask for directions at a gas station. The man behind the counter, directs them to a closer and even better spot in the middle of nowhere and the games begin. Ultimately, the group stumbles on a fanatical religious cult, who mistake the group for FBI agents, because of course all FBI agents are out of shape, twenty-something, computer geeks, carrying paintball guns. From there it's a fight for survival and a race to escape the backwoods of Northern California. While the film does get better after the first half hour, it still has its problems. For starters, the story is far too unbelievable, no one would take advice from someone at the gas station who looked like that and even rednecks in the middle of nowhere aren't going to mistake a bunch of geeks playing paintball for FBI agents. As with most horror films, the cast is lead by two extremely good looking people, Ryan Merriman and Haylie Duff, who both give unexpected performances. Merriman is know for his fiery and inspirational roles in sports films and he should most definitely stick to those. He was way out of his league here, giving a really ridiculous and unbelievable portrayal. Merriman's done horror before, and even starred in one of the Final Destination movies, but he's clearly not right for this type of film. Haylie Duff on the other hand was terrific! She has really turned into a pretty good actress and is absolutely beautiful. Backwoods would not be my first choice for a horror film festival, even for it's genre it is unbelievable and assumes it's audience will be too dumb to pick up on it. The performances vary and the sequence is somewhat expected, although I did enjoy the ending. The verdict, Backwoods isn't terrible, but it's far from special, I'd only rent it if I liked one of the cast members or was a big fan of the genre.
Todd Smith
Super Reviewer
A rip-off of any number of other films from Chainsaw Massacre to Wrong Turn and beyond, Backwoods is a fairly lame entry in the redneck killers genre that features Haylie (sister of Hillary) Duff as its one paltry claim to fame. The death scenes are never brutal enough to warrant the douchey characters you must endure. Mostly boring, Backwoods might kill an evening, but it will certainly not linger in the memory...
Al Miller
Extremely typical slasher/serial killer movie. Same basic plot as Shrooms, minus the supernatural element. This time it is religious zealots instead. Sub-par acting for the most part, though I did like the silent attraction between Duff and Merriman. Seemed more like a PG-13 pseudo-horror movie than an R. Not much in the blood and gore department, and zero nudity (a rarity in this type of film). Really only a 2.5 star movie, but since I think Duff is quite hot, I bumped it up to 3...
Don Schick
Discussion Forum
Discuss Backwoods on our Movie forum!
News & Features