Bad Girl
(1931)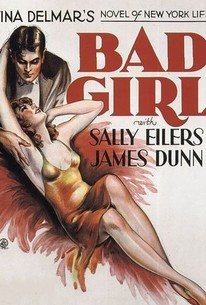 AUDIENCE SCORE
Critic Consensus: No consensus yet.
Movie Info
Based on a novel by Vina Delmar, Bad Girl stars Sally Eilers as heroine Dot Haley. The title notwithstanding, Dot isn't bad at all. She enters into a decent marriage with a decent guy, radio store clerk Eddie (James Dunn), and sticks with her man through thick and thin (mostly thin). But Eddie misunderstands Dot's seeming indifference to the new apartment which he has rented and furnished as a first-anniversary surprise. Eddie doesn't know what Dot and the audience do: there's a baby on the way, and that's all that Dot can think about. Once this misunderstanding is cleared up, Eddie takes on all sorts of extra jobs to pay for a pricey obstetrician, even moonlighting as a prizefighter. So impressed is the baby doctor by Eddie's devotion that he refuses to charge a cent when delivering Dot's baby (the bill, by the way, is a daunting $40). Curiously, some synopses of Bad Girl suggest that the hero and heroine never get married, which is hardly the case.
Critic Reviews for Bad Girl
There are no critic reviews yet for Bad Girl. Keep checking Rotten Tomatoes for updates!
Audience Reviews for Bad Girl
"In "Bad Girl, " Edna(Minna Gombell) is convinced men think of only one thing.(Actually, I think of two things. The other is my daily movie review.) At long last, she feels she may have found the only man(James Dunn) who has not wanted to poke, prod, grope, manhandle, pinch, grab, accost, fondle, or touch her(you know, I think I know what Tsai Ming-liang is up to with the melons in his films now) and bets her friend Dorothy(Sally Eilers) that she cannot get a conversation out of him. She does, sort of, and he ends up walking her back to her tenement where he gives his real name as Eddie Collins and a work number. They agree on a second date, but when he does not show up, Dorothy goes to his apartment where they spend most of the night. Afraid of what her older brother Jim(William Pawley) will do to her for staying out so late, they agree the only responsible course of action is to get married. "Bad Girl" is a thoughtful, well-written and richly observant movie that is far ahead of its time in its examination of gender roles and the lack of communication between men and women.(Eddie's heart is in the right place but can never find the right words.) With nothing better to do, even today, there are people who blame what happens to women on the way they dress. The bravado opening scene with the women modeling wedding dresses strongly proves them wrong. The movie is mature enough to recognize the changes in one's life that come with marriage and parenting, which Eddie has avoided up until to now, so he can open his own radio shop. In any case, love is more important than any amount of money, even as one generation tries to give their children what they themselves lacked. And as a movie made right before the odious production code, "Bad Girl" is quite frank in its dialogue and leaves open what exactly does happen in Eddie's apartment on that fateful night. (Originally reviewed in the blog section on November 19, 2009.)
Bad Girl Quotes
There are no approved quotes yet for this movie.