Bad Girl Island
(2007)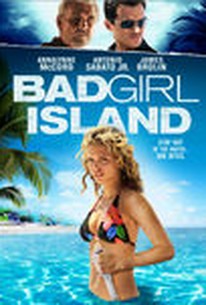 AUDIENCE SCORE
Critic Consensus: No consensus yet.
Movie Info
BAD GIRL ISLAND is a supernatural thriller about murder, temptation and mystical forces on an exotic island in the Bermuda triangle starring veteran actor James Brolin (Catch Me If You Can, Amityville Horror), Antonio Sabato Jr. (The Big Hit, "General Hospital") and AnnaLynne McCord ("90210", The Haunting of Molly Hartley). When the enchanting Simone (AnnaLynne McCord) mysteriously appears on the tropical island of Eleuthera, no man can resist her deadly charm. After seducing wealthy film producer Michael Pace (Antonio Sabato Jr.) in his dreams, she comes back to haunt him in real life when his best friend is found murdered and the only evidence is a video of his friend making love to Simone and of course Michael's dream. Surprisingly, Simone shows up at a casting session with Pace and famous director, Terry Bamba (James Brolin) and soon they are all entwined in a deadly game of deception, seduction and revenge.
Rating:
R
Genre:
, ,
Directed By:
Written By:
On DVD:
Runtime:
Critic Reviews for Bad Girl Island
There are no critic reviews yet for Bad Girl Island. Keep checking Rotten Tomatoes for updates!
Audience Reviews for Bad Girl Island
Absolutely horrible supernatural thriller starring the lovely AnnaLynne McCord of 90210 fame. She plays a temptress born of the sea who is seeking revenge on a boatload of wealthy, happy people who have wronged the sadly poor and seeking refuge people of Haiti. I just made it sound better than it is.
Don Schick
Bad Girl Island (Stewart Raffill, 2010) Stewart Raffill, relatively early in his career, directed one of my favorite movies, High Risk. In it, James Brolin plays a wannabe mercenary who leads a small group into the compound of a reclusive South American drug lord (Anthony Quinn) to liberate him of some of his ill-gotten funds. High Risk, released in 1981, was Stewart Raffill's last good movie. Since then, he has turned in a combination of bizarre "family" films (e.g. the infamous 1988 feature Mac and Me) and erotic thrillers (Survival Island). An odd combination to be sure, but we're going to dispense with the family-film aspect of Raffill's career and focus on Raffill's first feature with Brolin in almost thirty years. It could not be any more different from High Risk if it tried. Plot: Michael (bad-movie mainstay Antonio Sabato Jr.) is a screenwriter who's living on an island in the Bermuda triangle (no, really) trying to break his writer's block and come up with a new script. One night, he has a dream about a woman he rescues from the waves and names Morning (Excision's AnnaLynne McCord), since she can't remember her own name. (Hey, go with it, it's a dream.) Nasty things occur. He wakes up and whoa, there's his new screenplay. He gets on the horn with director Terry Bamba (Brolin) and the two of them start auditioning for the lead actress... and Georgia peach Simone (McCord) shows up to audition. Was Michael's dream only a dream? And if not, what does Morning want from Michael? I have seen a lot of bad movies over the years. I voluntarily sat through such legendary bombs as The Room and Birdemic: Shock and Terror. Neither made my list of the hundred worst movies of all-time. Manos: The Hands of Fate did; it sits at #57 (Manos is infamous for having been a denizen of IMDB's Bottom 10 since its inception; it fell to #11 a couple of weeks ago as I write this, nudged out by 2014's Gunday). What I'm getting at is that I tend to troll the depths, finding horrific little nuggets of celluloid feces like Cathy's Curse (#61), Slayer (#92), I Like Killing Flies (#38), Hallow's End (#49), and Mutants (#80), all of which have less than a thousand votes on IMDB. I know crappy, and I know it all too well. So when I tell you that Bad Girl Island is only the second film since I began the list almost ten years ago (May 20, 2004) to occupy the #1 slot... well, you get the idea. AnnaLynne McCord is so terrible in this movie I don't understand how she still has a career. I'd say the same for Antonio Sabato Jr., but I think I say that every time I see him in a movie. The script is beyond words (and, for much of its length, beyond reasoning). While I did not find it such, I can easily see where some folks could find it at least insensitive, if not outright offensive, for reasons I can't discuss without going into spoiler territory. I might have found it offensive if I thought the movie had enough brain cells to have at any point been malicious. It does not. In fact, that might have saved it from the slot it now occupies on my hundred-worst list; at least that would have inspired some sort of emotion. Instead, this is boring, lackluster, predictable, Lifetime Original Movie-level work from a director who past performances show is capable of much, much better than this. (As I write this, High Risk is at #371 on my list of the thousand best movies of all-time.) And yes, I rush to add that if this mess had not been directed by Stewart Raffill, it may have hit the list, but would probably be in the bottom half somewhere. But it is exemplary in providing an example of how far the mighty can fall-and for that, it claims the throne. (zero)
Robert Beveridge
½
"All the pretensions... never rose to fulfillment" ***1/2 This movie: had all the pretensions, to be better, than it was, but it never rose to fulfillment. To me: it was not as boring, as many of the other island, B-class movies, that I have seen. ~ A B-class movie that I give a C (Common)
J McDaniel
Bad Girl Island Quotes
There are no approved quotes yet for this movie.