Bad Moon
(1996)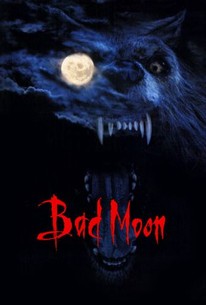 Movie Info
While on assignment in the jungles of Nepal, photojournalist Ted Harrison (Michael Pare) and his girlfriend are savagely attacked by a hideous beast which tears the woman to shreds and leaves Ted badly mauled. He later returns to the States to live near his sister Janet (Mariel Hemingway), nephew Brett (Mason Gamble) and their German shepherd Thor, hoping the presence of family will dispel the horrific memories... until the inevitable effects of a werewolf curse begin to surface. As his humanity begins slipping away, only the family dog begins to suspect something is wrong -- but poor Thor ends up being the chief suspect in a string of recent mutilation murders. Writer/director Eric Red's script (based on the novel Thor by Wayne Smith) plays with the standard werewolf conventions -- territory already barren after being strip-mined by a plethora of Howling sequels -- but tends to retreat into cliché too often to kick it more than a notch or two above the average direct-to-video fodder. Cinematographer Jan Kiesser's widescreen compositions lend a threatening edge to the woodland locations but are sadly lost to cable and home-video formatting.
Critic Reviews for Bad Moon
Audience Reviews for Bad Moon
½
"Bad Moon" might not do any part of the werewolf movie the best, but there is a lot that it does well.
Bad Moon is basically just a regurgitation of Cujo with some concepts turned around. I don't know why dogs are such popular movie material and this even has the nerve to make the dog an active hero in the story. The practical werewolf effects in this movie are genius and totally worth seeing the movie alone, but the goofy CGI added in is laughable. Also, the idea that a dog can defeat a bloodthirsty werewolf is just ridiculous and ruins any credibility. the only part of the story I really liked was Uncle Ted and his tortured soul as a werewolf trying to find a cure. The mom and son(aka Dennis the Menace) are just sort've annoying and seeimed to just waste screentime. Given a better story, this movie could've been a masterpiece considering they had a great character and effects. The opening scene in Nepal is utter genius though; you've got to respect a sex scene followed by gory dis-embodiments.
Conner Rainwater
Super Reviewer
Fantastic movie with a great film setting! This is the best movie I've seen so far with Michael Pare in it.
Bad Moon Quotes
There are no approved quotes yet for this movie.