Bad Santa
(2003)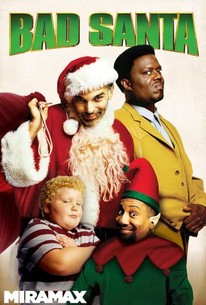 TOMATOMETER
AUDIENCE SCORE
Critic Consensus: A gloriously rude and gleefully offensive black comedy, Bad Santa isn't for everyone, but grinches will find it uproariously funny.
Movie Info
The Christmas season just got a lot less joyous in this very dark comedy. Willie T. Stokes (Billy Bob Thornton) is a con man and a thief who teams up with his friend Marcus (Tony Cox), a midget, for a very special scam each year during the holiday season. Willie gets a job as Santa Claus at a shopping mall, his pal tags along as an elf, and they use their employee status to crack mall security and rob stores blind just before Christmas. However, there's one flaw to this plan -- Willie is a bitter, foul-mouthed and perpetually grouchy alcoholic who doesn't care for kids, and it's all he can do to keep himself from getting fired while on the job. The mall's manager (John Ritter, in his last film appearance) is certain something's wrong with the Santa he's hired, so he asks the mall's chief of security (Bernie Mac) to do some research on Willie. Meanwhile, one of the kids Willie is forced to talk to becomes a regular customer; overweight, awkward, and the frequent target of bullies, the boy manages to arouse something like sympathy from Willie, who tries to give him some advice and develops something vaguely resembling Christmas sprit along the way. Bad Santa was directed by Terry Zwigoff, who enjoyed previous success with Crumb and Ghost World. ~ Mark Deming, Rovi
News & Interviews for Bad Santa
Critic Reviews for Bad Santa
Audience Reviews for Bad Santa
Yes, it's awful, but have to laugh. Definitely not a sentimental Xmas movie.
Nicki Marie
Super Reviewer
While there are many quotable lines, and an edgy dark humor that usually gets waylaid with Christmas comedies, a classic this film is not. For all its strangeness and obtuse darkness it's not always all that funny. Our lead character, played by a drunk Billy Bob Thornton, is mean-spirited, heartless, and inappropriate, but the only times this is played for comedic effect is when he is paired with the kid (Kelly). The kid is odd, not all that forthcoming, and true to himself, which is a great balance with Thornton's unappealing sadsack Santa Claus. When they're onscreen the laughs roll in, but otherwise this film is very depressing and meager with its side characters. Marcus (Cox) plays well off Thornton but as his own character he is very one dimensional. Mac makes an interesting villain, but he doesn't get enough screen time. If the story was a little more fleshed out and the characters were a little more interesting this would have been an easy comedy to love.
Spencer S.
Super Reviewer
½
No this isn't a National Lampoon movie although you could easily be fooled into thinking that with this title. As you might have expected this is a Christmas set film and its about a naughty Santa character. Again you could easily be fooled into thinking this is a silly kids movie with lots of fart gags...but no, its actually a black comedy and most definitely for the grown ups. The whole point of this film is the ever so slight redemption of the main character played by Thornton. This guy is a low down permanently drunk criminal who drags his way through life whilst robbing department stores with his dwarf partner. The dubious duo take yearly jobs as a department store Santa and his elf worker, this way they get to know the ins and outs of the store so they can easily rob it. Things change for Thornton's character 'Stokes' when he meets a tubby little boy who he kinda befriends and takes a shine to...eventually. This film is kinda unique in the sense that the main character has many flaws and issues which you tend to think he will sort out at some point by the end of the film. The twist and funny part is he doesn't really change at all, he does a little bit with the help of his little fat young friend, but not too much really, he still ends up as the same bum. The amusing things about the film are the constant little moments where Thornton's character gets angry or frustrated with the fat kid and swears at him. The little fat kid (eerily played by Kelly) seems to be a bit slow and just takes the abuse, in one ear and out the other. At times it can be very funny to watch these outbursts yet at other times you do feel sorry for the kid or Stokes because you know he sometimes doesn't mean it. The heist aspect of the film is quite good and offers some reasonably tense moments, especially near the end. The various Santa sequences are probably the films highlights as we see Thornton getting sneezed and coughed on by lots of pant wetting scroats. Of course his reactions and the way he treats the kids are the best bits, he basically sneers growls and scowls at them, finally nudging them off his knee and virtually kicking them to the curb. Watching the reactions of the parents is great, as a man pushing 40 and with no kids I love it, if I was a parent I might feel differently I guess who knows. The darkest sequence must be when a severely pissed Stokes crawls up the escalator towards his Santa grotto. His beard and clothes now filthy stained and damaged, he looks like shit, can hardly walk and promptly falls into a reindeer display. This whole sequence starts out funny but descends into a more cringeworthy incident as he freaks out and starts to smash up the Xmas display in front of everyone in the store, its still amusing but also poignant and depressing...much like the plot as a whole really. The finale was a tad of a let down for me, it does seem like you're gonna get the predictable ending where Stokes will die trying to achieve a small slice of decency in his life, the right ending. A bit like the finale in 'The Wrestler' where Rourke's character goes out doing what he loves but also reclaiming a small part of his dignity right at the end. Even though this ending is predictable as I said, I think it would have been stronger for obvious reasons. Instead Stokes lives on and we get some mumbo jumbo about how he survived and what he plans to do after he heals up. This simply feels like an open ending so they can roll out a sequel which this film really doesn't need in my opinion, if it happens that is. I think it should have wrapped up there and then. All in all I like how this is basically an anti-Christmas flick which sticks two fingers up at the sweet yuletide greetings side of it and embraces the Scrooge side with extreme profanity. Its not exactly original in idea, the drunk rude Santa schtick has been done before but you can't deny its amusing. Crude rude edgy and drenched in cynicism...but there is a soft warm heart buried deep in there and it just about manages to shine through in the end.
Phil Hubbs
Super Reviewer
Bad Santa Quotes
| | |
| --- | --- |
| Marcus: | (To Willie) "You're an emotional fucking cripple. Your soul is dog shit. Every single fucking thing about you is ugly." |
| Marcus: | You're an emotional fucking cripple. Your soul is dog shit. Every single fucking thing about you is ugly. |
| | |
| --- | --- |
| Willie T. Stokes: | (to a kid) What do you want? |
| Willie T. Stokes: | What do you want? |
| Pokemon Child: | Pokemon! |
| Willie T. Stokes: | Done. |
| | |
| --- | --- |
| Willie T. Stokes: | "I beat the shit out of some kids today. But it was for a purpose. It made me feel good about myself. It was like I did something constructive with my life or something. I don't know. Like I accomplished something." |
Discussion Forum
Discuss Bad Santa on our Movie forum!