Bait
(2012)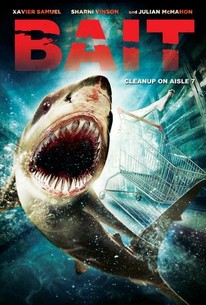 Movie Info
When a monstrous freak tsunami hits a sleepy beach community, a group of survivors from different walks of life find themselves trapped inside a submerged grocery store. As they try to escape to safety, they soon discover that there is a predator among them more deadly than the threat of drowning-vicious great white sharks lurking in the water, starved hungry for fresh meat. As the bloodthirsty sharks begin to pick the survivors off one by one, the group realizes that they must work together to find a way out without being eaten alive. -- (C) Official Site
People Who Like this movie also like
Audience Reviews for Bait
½
You know I kind of feel bad for Jaws. I mean sure it brought a lot of this on itself with the terrible sequels, but even so, do you think there's people who have never seen Jaws and think that this is all Shark-based Creature Features have to offer? Chock full of tropes I detest like unnecessary fly-at-your-face-for-3D-you-aren't-using-ery, Australians who aren't allowed to speak in an Australian accent for some bloody reason, and woeful CG. Bait then bizarrely folows up that bad (like, seriously bad) CG with some actually surprisingly decent practical effects and even a handful of live-action, so that took it a couple of steps back in the right direction. It's still bad, but I guess... Less bad. Slightly.
½
As far as shark film goes, Bait is nothing new or refreshing, and it presents a clichéd, predictable formula. The film is mediocre, but somewhat entertaining. However don't expect anything good here as this film is basically pretty cheesy, and relies on a poor cast of actors. The idea seemed really good, and it's a shame that the film has some potential, but the filmmakers can't seem to craft a good horror yarn. The film has some poorly written dialogue that is cringe worthy and instead of being something totally new and exciting, it simply relies on genre predictability to create its tension, thus you become less interested in the film, The blood effects are good, but the shark effects lack and look absolutely fake. You can tell that this is a low-budget affair, and maybe the concept may have looked good on paper, but on film the result is less impressive. This had some good ideas going for it, but due to a lacking script, and poor cast, it fails to be memorable. Bait is a disappointing creature feature that is void of genuine tension and effective thrills. Instead, it dumb down everything and there is really no pay off in the end for this flick that could have been so much more if the cast would have been better and in the end this is lazy, unimpressive filmmaking that is among the most disappointing horror features this year. As a whole, this is a forgettable flick that isn't worth your time, or unless you're having a bad movie night with friends, check it out. Otherwise pass up on this.
½
Jeez, I hadn't seen something this bad in a while... and can't quite remember which twat of my friends recomended me this to hurt him somehow as payback :D These characters are beyond belief. Wow, what a bunch of... I dunno what to call them really. Their interactions and personal dramas are so awful and with such bloody bad dialogues, I can't quite conceive any real motivations going on. The CGI is atrocious but at least it's gory enough to be mildly entertaining. The whole concept even on itself is so far-fatched, I honestly believed at first that this could be a goofy comedy (which would've worked much much better). A tsunami hits a coastal city in Australia, those morons get stuck on a shopping mall and white sharks get in there to hunt them (I guess). As these things go, conflicts among such exotic cast of characters occurr, but you can witness more bitch slapness on a kindergarten than here. Then, one moron does some moronic thing to get picked of, one at a time, then it ends. Yep.
Francisco Godinho
Super Reviewer
Bait Quotes
There are no approved quotes yet for this movie.
Discussion Forum
Discuss Bait on our Movie forum!