Bajo la sal
(2008)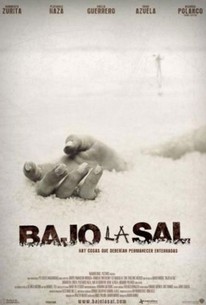 AUDIENCE SCORE
Critic Consensus: No consensus yet.
Movie Info
When a serial killer begins burying his victims in the salt fields of Santa Rosa de la Sal, police commander Trujillo begins to suspect that a misfit teenager may be responsible for the murders. When he's not working at his father's funeral home, adolescent misfit Victor produces savage, micro-budget horror films. Victor's behavior is suspicious and anti-social to say the least, but by focusing his investigation on the teenage kid with the morbid imagination, is commander Trujillo allowing the real killer to continue committing his grisly crimes unabated?
Critic Reviews for Bajo la sal
There are no critic reviews yet for Bajo la sal. Keep checking Rotten Tomatoes for updates!
Audience Reviews for Bajo la sal
Good concept, but way too long. Might have been better had they edited some stuff out, and came to the point a little sooner...
Cynthia S.
Super Reviewer
This movie was pretty boring until the last 15 minutes or so. It's just the kind of movie that has a really methodical pace, but nothing really of interest happens untl those 15 minutes. This method can work in other kinds of movies, for example, the movie Audition is a perfect example of this. Audition builds up the tension so that by the end of the movie, it's really just a fever pitch and it's very intense, so this approach really worked in Audition. But in this movie it just fails, because you can predict who the bad guy is 30 minutes into the movie. And that just feels counter-productive to me, so the rest of the movie just feels like a chore to watch, and that's what this movie was. A chore to watch, 1 hour in I was already wanting this movie to be over. That's not to say the movie was bad, because it wasn't. Everything that happened was decent enough. It just wasn't very interesting to see this "mystery" unfold. Like I said the last 15 minutes were solid but by this point the movie already went off the deep end, so I didn't really care too much about what happened to the characters. But the end, with the dolls and Radiohead's song "Videotape" was really good and it was actually kind of touching. But that's about it for this movie really, it won't reinvent the genre but it won't kill it either.
Jesse Ortega
Super Reviewer
½
The film is technically competent, but it's also so spectacularly boring, mainly due to its complete lack of direction with the story, that I felt physically ill. The stop-motion sequences were fantastic, but not worth it.
Quinto Wallight
Super Reviewer
Bajo la sal Quotes
There are no approved quotes yet for this movie.
Discussion Forum
Discuss Bajo la sal on our Movie forum!