The Balcony
(1963)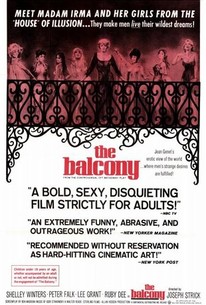 Movie Info
This 1963 film from director Joseph Strick was adapted from the play of the same name by Jean Genet. The scene is a European brothel managed by Shelley Winters. Within the establishment's walls, customers can live out their fantasies: One man who would like to be a Bishop defiles a crucifix, another who wants to be a Judge flogs an under-dressed young "penitent", a third poses as a General, "riding" a prostitute dressed as a horse. Meanwhile, a revolution rages outside, and the country's genuine Bishop, Prelate, and General are killed--as is the Queen. To keep up appearances, Winters and her customers are ordered to impersonate the deceased powers-that-were. The supporting cast includes Ruby Dee, Lee Grant and Leonard Nimoy.
Critic Reviews for The Balcony
All Critics (5) | Fresh (3) | Rotten (2)
Well acted by Shelley Winter and others, Jospeh Strick's version of Genet's faous play is only semi-effective in conveying the politics and allegory of the original text.
Audience Reviews for The Balcony
½
Strange, muddled film, very existential. The question would be, even with talented performers like Winters, Falk and Grant, who was film made for?
The Balcony Quotes
There are no approved quotes yet for this movie.