The Ballad of Little Jo
(1993)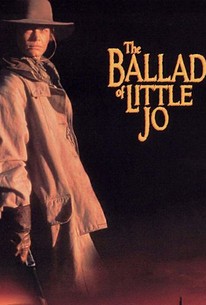 Movie Info
The Ballad of Little Jo is based on a true story -- several true stories, in fact. Suzy Amis plays demure young Josephine Monagan, who in 1866 is run out of her home town after bearing an illegitimate child. Fleeing westward, Josephine is terrified by stories of how treacherous the frontier can be for a woman alone. As a result, upon arriving in the muddy burg of Ruby City, she disguises herself as a man, going so far as to scar her face to suggest that she's been in a few scrapes. In this guise, "Little Jo" does just fine by herself for nearly 30 years! Almost as good as Suzy Amis is Bo Hopkins as gunslinger Frank Badger, Little Jo's best buddy (if only he knew....) Written and directed by Maggie Greenwald, The Ballad of Little Jo does a marvelous job conveying the people and places of its period; and, unlike Bad Girls (which was released around the same time), we aren't bludgeoned to death by feminist revisionism. Unfortunately ignored when it went out to theatres in the fall of 1993, The Ballad of Little Jo has fared rather better on video.
News & Interviews for The Ballad of Little Jo
Critic Reviews for The Ballad of Little Jo
Audience Reviews for The Ballad of Little Jo
½
This is a Suzy Amis Film, that?s the reason I watched it, and of all the films I have watched her act in, this is one of the better ones, Was going to give it 3 stars, but because of the story line I decided to go with 4. Its about a female in the Wild Wild West who when film begins is sold by a trader to two men, she escapes and decides to act and dress like a man. Now had I been there I would have thought Little Jo was a little light in his loafers, but I am sure that the real Little Jo was a little more Manley. In the end she lives with a china men who in the movie just disappears we never see what happens to him. Its an enjoyable movie to rent, not sure I would go out and buy it. 3 3/4 stars even though Flixster will not allow me to do that.
Bruce Bruce
Super Reviewer
A passable western. It seems as though every attempt to portray a woman gunslinger does not do any justice to the original inspiration. A hard find...for good reason.
John Ballantine
Super Reviewer
The Ballad of Little Jo Quotes
There are no approved quotes yet for this movie.