Bamboozled
(2000)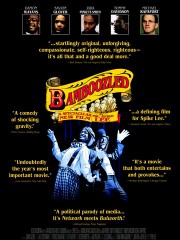 Bamboozled Trailers & Photos
Movie Info
Pierre Delacroix is a hip, young, Harvard-educated writer who is the sole person of color working for an upstart network with floundering ratings. Despite several attempts, Delacroix has yet to see any of his concepts go into production. Now his boss, the ratings-hungry, culture-vulture Dunwitty, issues him a searing ultimatum: come up with a hot, trend-setting, headline-making, urban hit or get fired. Feeling doomed, Delacroix decides to present the most outrageous, unbelievable farce of stereotypical comedy he can imagine - hearkening back to the old days of "black-face" minstrels with a variety show featuring Manray, a homeless tap dancer, and his sidekick Womack. Incredibly, Delacroix's spoof turns into a ratings bonanza, a cultural phenomenon that has the media pundits raving and audiences of all types howling.
more
Rating:
R (for strong language and some violence)
Genre:

Drama

,

Television

,

Comedy

Directed By:

Spike Lee

Written By:
Spike Lee
In Theaters:
Oct 6, 2000 Limited
On DVD:
Apr 17, 2001
Box Office:
$1.9M
Runtime:
Cast
News & Interviews for Bamboozled
Critic Reviews for Bamboozled
Audience Reviews for Bamboozled
Chris Weber
Super Reviewer
At this point in Spike Lee's career, it's almost at a point where enough is enough. His heavy handed messages about racism are sometimes very well done and effective, but other times they are bland and as ridiculous as this. The only thing that's really interesting about this is the audience reaction to blackface, that's about it. Everything else presented in this has been done and done better. The really bad comical undertones to the movie only adds to its pointless nature because in the end it all just feels like a bad joke.
½
Spike Lee delivers an intentionally shocking and racist film that winds up being shockingly racist in unintentional ways. Damon Wayans plays either an erudite and well-spoken television producer, or an erudite and well-spoken muppet, judging by his accent. He works for an exploitive tv network that's not interested in portraying realistic, positive images of african-americans, so he one day decides to create a show so offensive and over-the-top racist that the network executives will be swarmed with public outcry. His plans misfire when his "minstrel show for the new millenium" becomes a mega-hit, inspiring fans all over the country to don blackface call themselves "real" (n-words). Thrown into the mix is Wayan's personal assistant (Jada Pinkett) and her brother Mau Mau, a militant gangsta rapper, whose african pride seems a little misguided, to say the least. The film certainly starts off amusing, and has great intentions, but somewhere along the line, it loses it's point and focus. Jada Pinkett Smith is either a terrible actress or her character is just blandly awful (probably a little bit of both). I can't imagine this blackface minstrel show would ever be a hit series, as it's simply not very funny in any way (and even for a show about blackface, it goes into cheap and lazy territory). There is a fair point one could make about the idiocy of modern television effectively being just an updated version of a minstrel show, but Bamboozled doesn't go anywhere near that territory. By the end of the film (and I don't feel bad in revealing some spoilers), the film delves into wholly unrealistic gunplay and violence. It's incongruous and cheapens whatever valid points it was trying to make. Bamboozled winds up being a whole lot of unoriginal ideas slapped onto an interesting concept. In fact, the ending material sort of justifies the minstrel shows and demonstrates not a rising above that sort of material, but showing black culture as a whole has denegrated itself still further. Go rent the vastly superior C.S.A.: The Confederate States of America (2004) for a truly satirical look at America's attitude towards race.
Devon Bott
Super Reviewer
Discussion Forum
Discuss Bamboozled on our Movie forum!
News & Features