Band Baaja Baaraat
(2010)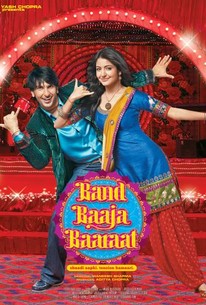 AUDIENCE SCORE
Critic Consensus: No consensus yet.
Band Baaja Baaraat Photos
Movie Info
Shruti is a 20-something no-nonsense girl from a middle class Delhi household. Focused and determined with preplanned ambitions, her goals in life are well laid out by the time she reaches her final year of college. Bittoo, on the other hand, has no real aim in life. As a final year college student of Delhi University, he whiles away his life having fun with his buddies, barely scraping through his exams. A chance and inopportune meeting (or as you would call it, fate) brings the two of them together on a tumultuous journey.
Critic Reviews for Band Baaja Baaraat
All Critics (1) | Fresh (1) | Rotten (0)
Though very little plot or characterisation emerges from the first 70-odd minutes of Band Baaja Baaraat, the never-ending procession of lavish weddings makes for a cinematic feast of colour and movement - the two things Indian cinema does best.

Audience Reviews for Band Baaja Baaraat
½
The baaraat of 'like'rs behind BBB would've been larger and they all would have cheered and danced even more, had it not been for the unnecessary and jerky turn it takes a little past the mid-point. Otherwise, it's a rather refreshing and sensitive romantic comedy, very deftly and delicately put together (once again) by Habib Faisal (who this time only looks after screenplay/dialogue - the heart of this movie) and his debutant director Maneesh Sharma. Those of us who became immediate fans of Anushka after RNBJ, won't be disappointed with her either, but will surely not find a number that's as mesmerizing as 'Dance Pe Chance' (although "Ainvayi Ainvayi" tries to come close). New hero Ranveer Singh (a truly self-made young man, a writer turned actor, and an alumn of Indiana University, Bloomington) is just too convincing and comfortable right off the bat. No wonder he won the Best Male Debut award for 2010. Kudos to the Chopra movie powerhouse for promoting new talent on all fronts!
Sreedhar Kajeepeta
A light rom-com entertainer that did well at the B.O. probably for the lack of good movies these days around. Ranveer Singh was good and Anushka Sharma looked like his elder sister. However, if you pardon the looks, her acting is good enough.
familiar stranger
Super Reviewer
As incomprehensible as it may seem, there are some gems that do occasionally drop out of the Yash Raj Films' bag. Even more than cricket, if there is anything that consumes more of our country's resources (apart from temples), are weddings. Businesses have blossomed with the emergence of the ostentatious class and the rest of us aspiring millions, wanting to celebrate the biggest event of our lives. Debutant director Maneesh Sharma's contemporary story about two such individuals in Delhi is a simple, light hearted and entertaining depiction of the business of Wedding Planning. Perhaps, 'Band Baaja Baraat's primary attribute is that it is refreshing. The film's beginning itself hints at the director's approach and the story's premise. All the entertainment in the storyline is the result of doing things differently using innovative 'tarkeebein'. As Bittoo Sharma (Ranveer Singh) hits a career roadblock with no option in sight but to return to his village and assist his father in harvesting sugarcane, he meets the beautiful Shruti Kakkar (Anushka Sharma) whose career goals are lucid. With a mutual agreement, the two establish Shaadi Mubarak as wedding planners. With an innovative approach against the conventional grandiose plans in the business, the partners see unprecedented success in a brief period. But a man and woman can only go so far in professional partnerships.... and soon, creditors and doom are at their doorstep, ready to shut business. The relationship between Shruti and Bittoo does portray some realistic characteristics. Their difference of opinion, conflict of interest, individual ambitions as well as their synergy are credible. So are the circumstances they face, however favorable or adverse; and that aspect makes the film enjoyable. It's not at all about hard-hitting dialogues, unwanted comedians and drama but about meaningful conversations and realistic distinction among characters. Maneesh Sharma does convey his story with some maturity that audiences can relate to. Ranveer Singh as the simpleton, who is sincere in his work and dedicated to an aspiration is charming in Bittoo's shoes. His dialogue delivery exudes a rarely seen confidence and acute ability to relate to his character. It might even be far fetched to say that Ranveer Singh is Bittoo Sharma and vice-versa but it does appear so. Anushka Sharma was very impressive. Not only her confidence while enacting the ambitious and outspoken Shruti Kakkar, but her dialect, expressions and natural grasp of every scene were delightful to watch. From funny moments, to serious, to emotional ones and even the awkward ones, she showcased much more than one expected from her. Her previous films were simply unsuccessful trailers of her abilities if one could conclude. Among the rest, Manmeet Singh and Neeraj Sood are excellent in their supporting roles. Salim-Suleiman's music renders as effective owing to some intelligent lyrics by Amitabh Bhattacharya who composed 'Udaan's songs. Director Maneesh Sharma's simple yet innovative story telling serves a mature entertainer that is filled with charming characters, credible situations and drama-free dialogues. While he does manage to get most things right, this isn't an award winning movie that will be remembered for decades but one can easily categorize it as 'feel good' cinema that can be enjoyed for the 2 hours. Nothing more, nothing less. 7.82 on a scale of 1-10.
KUNAL KHANDWALA
Band Baaja Baaraat Quotes
There are no approved quotes yet for this movie.
Discussion Forum
Discuss Band Baaja Baaraat on our Movie forum!