Band of the Hand
(1986)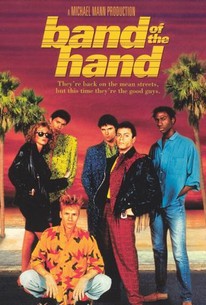 Movie Info
Former Starsky and Hutch star Paul Michael Glaser warmed the director's chair for Band of the Hand. The film zeroes in on five juvenile delinquents who are plucked from their various detention facilities and unceremoniously dumped in the wilds of the Everglades. The boys begin to panic until hardcase Vietnam veteran Stephen Lang arrives. Lang explains that they've been paroled in his custody, and that it is his task to teach them how to work as a team in order to survive. The logic of this plan is to whip the boys into an elite vigilante unit, then sic them on the various drug dealers of America. The film features early performances by Lauren Holly and Larry Fishburne and Bob Dylan can be heard singing the title song.
Rating:
R
Genre:
, ,
Directed By:
Written By:
In Theaters:
On DVD:
Runtime:
Studio:
Sony Pictures Entertainment
Critic Reviews for Band of the Hand
Audience Reviews for Band of the Hand
½
Follows the formula of hard-ass war vet takes groups of teens who have never seen Scared Straight and whips them into a band of crime fighters, out to beat down Miami's drug lords. It is cashing in on the popularity of Miami Vice with the location, clothes, and drugs but this is below the level of all the Andy Sidaris movies, especially due to the lack of cleavage, even with a young Lauren Holly.
Mike L
It's Mod Squad meets Miami Vice and was a regular staple in my mid teens back in the mid 80's when HBO took a great movie like let's say Band of the Hand and showed it a couple of thousand times a year and as a 16 year old you never got tired of watching it. I still don't get tired seeing this rag tag bunch of j.d.'s get rehabilitated in a Florida swamp and open up a can of whoop a$$, I mean gopher gas on kingpin Remar and his cocaine cartel. Watch it once and you will watch it again.
Curtis Reynolds
Miami Vice meets MTV in this 80's crapfest. Band of the Hand (1986) 1.5/10 Director - Paul Michael Glaser Starring - Stephen Lang, Laurence Fishburne, Lauren Holly, John Cameron Mitchell, Michael Carmine, James Remar, Leon Robinson, Paul Calderon. This is so eighties in the worst possible way. Basically a combination of "Miami Vice" and MTV stylistically; it's the story of troubled youth sent to the Everglades to be whipped into shape by a Vietnam Vet before they are unleashed into the drug-addled streets of Miami. It's a bad movie that may be of some curiosity to Michael Mann fans (he produced this dreck) or those wishing to catch an early glimpse of Laurence Fishburne, Lauren Holly, or Hedwig's John Cameron Mitchell.
Jennifer Allison
Band of the Hand Quotes
| | |
| --- | --- |
| Joe: | Each guys life depends on all, on each man doing his job, you cover your zone, you know the man on you right has got your right covered, you know the man on your left will kill everything on your left! You're all part of each other, fingers on a hand, A FIRE TEAM! |
Discussion Forum
Discuss Band of the Hand on our Movie forum!