Bandido
(1956)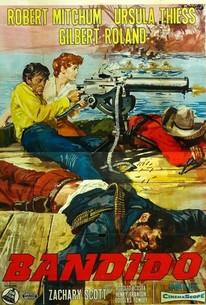 AUDIENCE SCORE
Critic Consensus: No consensus yet.
Movie Info
Bandido is set during the Mexican civil war of 1916. Robert Mitchum stars as a sleepy-eyed soldier of fortune who finds himself in the middle of the fracas. At first refusing to take sides, Mitchum eventually casts his lot with insurrectionist Gilbert Roland. On the opposite side of the fence is gun-runner Zachary Scott, whose attractive wife Ursula Theiss has a yen for Mitchum. Lensed on location in Mexico, Bandido offers little in the way of provocative plotting or clever dialogue, but it definitely delivers the goods so far as action and adventure are concerned.
Rating:
NR
Genre:
,
Directed By:
In Theaters:
Runtime:
Studio:
United Artists
Audience Reviews for Bandido
Set in 1916 during the Mexican revolution. Robert Mitchum is the best thing about the film. Slow paced, color Western set in Mexico about Mitchum, an American who through the use of his new grenades and new machine gun turns the tide of a battles against government troops. Not a rebel himself, Mitchum still assists the rebels find a shipment of guns. There is a romance angle to this film as Mitchum gets involved with a government prisoner's wife. The camerawork was nothing really special although Max Steiner did the musical soundtrack. Directed by Richard Fleischer, son of Max Fleischer the animation genius (films directed) Child of Divorce (1946) Design for Death (1947) Banjo (1947) Bodyguard (1948) So This is New York (1948) Trapped (1949) Make Mine Laughs (1949) Follow Me Quietly (1949) The Clay Pigeon (1949) Armored Car Robbery (1950) His Kind of Woman (1951) The Narrow Margin (1952) The Happy Time (1952) Arena (1953) 20,000 Leagues Under the Sea (1954) Violent Saturday (1955) The Girl in the Red Velvet Swing (1955) Bandido (1956) Between Heaven and Hell (1956) The Vikings (1958) These Thousand Hills (1959) Compulsion (1959) Crack in the Mirror (1960) The Big Gamble (1961) Barabbas (1961) Fantastic Voyage (1966) Doctor Dolittle (1967) Think 20th (1967) The Boston Strangler (1968) Che! (1969) Tora! Tora! Tora! (1970) See No Evil (1971) (aka Blind Terror) The Last Run (1971) 10 Rillington Place (1971) The New Centurions (1972) Soylent Green (1973) The Don Is Dead (1973) Mr. Majestyk (1974) The Spikes Gang (1974) Mandingo (1975) The Incredible Sarah (1976) Crossed Swords (1977) (aka The Prince and the Pauper) Ashanti (1979) The Jazz Singer (1980) Tough Enough (1982) Amityville 3-D (1983) Conan the Destroyer (1984) Red Sonja (1985) Million Dollar Mystery (1987) Call From Space (1989) Produced by Robert L. Jacks Written by Earl Felton Music by Max Steiner Cinematography Ernest Laszlo Stars Robert Mitchum, as Wilson Ursula Thiess, as Lisa Kennedy Gilbert Roland, as Col. Escobar Zachary Scott, as Kennedy Rodolfo Acosta,as Sebastian José Torvay, as Gonzales Henry Brandon, as Gunther Douglas Fowley, as McGhee Editing by Robert Golden Running time 92 minutes
monsieur rick
Bandido Quotes
There are no approved quotes yet for this movie.