Bandolero
(1968)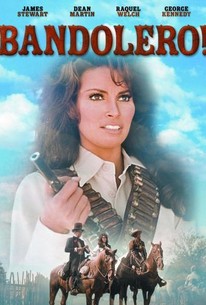 Movie Info
James Stewart and Dean Martin are atypically cast as outlaws in Bandolero! The film begins as Dee Bishop (Martin) and his gang are about to be hanged. The Scripture-spouting executioner turns out to be Dee's brother Mace (Stewart), who helps the desperadoes escape. They are pursued by a sheriff (George Kennedy), whose lady friend (Raquel Welch) has the hots for Dee. The brothers try to go straight, but before they can make up their mind they find themselves surrounded by Mexican bandidos and are forced to team up with the sheriff to fight them off. ~ Hal Erickson, Rovi
Rating:
PG-13 (for violence.)
Genre:
, , ,
Directed By:
Written By:
In Theaters:
On DVD:
Runtime:
Studio:
20th Century Fox
Critic Reviews for Bandolero
Audience Reviews for Bandolero
He's not as tough as he smells. Dee and Mace Bishop are brothers that have recently been reunited after Mace pretends to be a hangman during his brother's trial. A shootout ensues and they escape. Along their way they encounter a woman out for revenge and money...sounds exactly like their type. As they try to find a way to go right and avoid the law, their natural ways get in the way. "It appears to me I misjudged you." Andrew McLaglen, director of Have Gun Will Travel, Gunsmoke, McLintock, The Wild Geese, Sahara (1983), The Sea Wolves, and Shenandoah, delivers Bandolero! The storyline for this picture is pretty good and fun to watch unfold. The characters are fascinating and eccentric and the cast delivers solid performances. The cast includes James Stewart, Dean Martin, Raquel Welch, George Kennedy, and Will Geer. "He robbed a bank." "Who?" "The hangman." I came across this on Netflix and had to add it to the wish list since it starred the legend James Stewart. This was far from his best work and this was a pretty average, straightforward western. There wasn't too much original here. I wouldn't go too out of my way to see this unless you're a fan of the genre. "I was a whore at thirteen and my family never went hungry." Grade: C+
Kevin Robbins
½
140808: Quite a good movie with what I consider a surprising finale. Good characters, western stars I recognize from my younger years and some really big hair on Welch's part. Plenty of action and a little humour. All's well.
John Redshaw
½
I remember seeing this movie for the first time on TV in the 1970's. Right at the beginning the movie titles set the story in 1867 Texas. The Dean Martin character and his gang try to rob a bank but are caught before they can get away. Jimmy Stewart plays his brother who comes to help his brother escape before he is hung. He comes across a hangman who claims to be from Oklahoma City and has come down from Oklahoma to hang a Texan. However, in 1867 Oklahoma didn't exist. There was no Oklahoma City until April 22, 1889 when the Oklahoma Territory was opened to settlement. In 1867 what is now Oklahoma was Indian Territory. And as usual in a 1960's Western the weapons used weren't from 1867 but were modern weapons modified to look like they came from 1867. They never show what happened to the hangman but Jimmy Stewart takes his cloths, horse and equipment and goes to his brother's hanging. At the hanging he helps his brother and his gang members escape. The lead up to the escape is the best part of the movie. After the escape they kidnap Raquel Welch and flee to Mexico. After this it is just a standard Sheriff chasing the outlaws story. In the end they all have to fight off a gang of Mexican bandits and everyone except Raquel Welch and the Sheriff dies.
Donald White
Bandolero Quotes
There are no approved quotes yet for this movie.