Bane
(2009)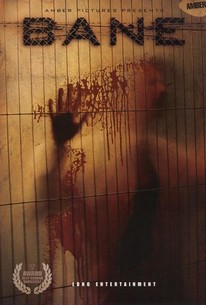 AUDIENCE SCORE
Critic Consensus: No consensus yet.
Movie Info
Upon awakening in an underground cell with no memory of how they arrived there, four women fall victim to a menacing figure conducting a gruesome experiment. One by one the women are visited by the Surgeon, who carves a four-digit number into their skin indicating the exact time he will return to slaughter them. None of the women know why they have been selected to meet such a grim fate. Will they discover the secret behind this dark experiment in time to avoid a painful demise at the end of the Surgeon's sharpened blade, or is there truly no escape from his bloody den of torture and suffering?
Rating:
NR
Genre:
,
Directed By:
Written By:
In Theaters:
On DVD:
Runtime:
Studio:
Unknown
Critic Reviews for Bane
There are no critic reviews yet for Bane. Keep checking Rotten Tomatoes for updates!
Audience Reviews for Bane
This is the worst movie I've ever seen. The acting could not be worse, I should not be able to watch a movie and honestly bieleve that i could do a better with every single role. The plot is rediculous, all i could do was laugh at how interestingly bad this movie was. I don't know what James Eaves was thinking when he was directing the gory scenes in this movie. The shots were so unrealistic, for instance, one of the four girls was on top of one of the masked scientists and she stole his nightstick and was repeatedly hitting him on the head, he has a little peice broken off of his and mask and he was still alive. Also, the ending was quite possibly the most irrelevent "twist" i have ever seen, it had nothing to do with the story or anything. I would strongly recommend to not watch this movie and use that to watch a productive movie.
Cory Cutchens
My main beef with Bane is just that it goes on way too long--it would have been way more effective as a taunt 70-minute thriller. As it is, the movie runs about 30 minutes too long. This is partly because Bane spends no time on exposition--it throws us right into the situation: a group of four women abducted by a bizarre organization and submitted to twisted experiments. There also seems to be a brutal killer and perhaps some government cover-ups going on. I won't give away too much. Bane is made on the super-cheap--it's sets are literally fake prison bars and clear plastic tarps. But the film does deliver some genuine brutality and cool plot twists. I liked it, but it could have been better if it had a better editor. Also, the sound engineering is just pathetic because it is almost impossible to decipher some of the crucial moments of plot explication late in the film.
Al Miller
This was a pretty good movie. I liked the setting... Loved the plot. Can't really say anything bad about this one. But they could've had a better antagonist role...the guy is a bad actor.
Jacob Palacio
Super Reviewer
Bane Quotes
There are no approved quotes yet for this movie.