Bang bang wo ai shen (Help Me Eros)
(2007)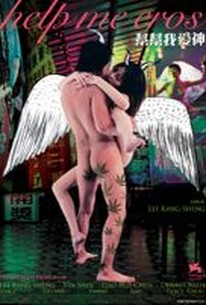 AUDIENCE SCORE
Critic Consensus: No consensus yet.
Movie Info
Taiwanese filmmaker Lee Kang-Sheng voices his growing dissatisfaction with consumer culture in this tale of a man sunken into a deep depression after losing all of his money in the stock market. There once was a time when Ah Jie (Lee) could afford to fill his luxurious apartment with the best designer furniture that money could buy, but these days the items that once signaled his status are now just painful reminders of the past that slipped away so easily. Continually puffing on joints rolled from the numerous marijuana plants he grows, Ah Jie later phones in to a helpline and soon begins baring his soul to volunteer counselor Chyi (Jane Liao). In the course of their conversation Ah Jie falls a little in love with his virtual savior, but she is just a voice on the telephone and nearby betel nut girl Shin (Yin Shin) is a more tangible companion. But while sex with Shin offers Ah Jie a momentary reprieve from his deep malaise, the pain of his bleak reality is never too far away. ~ Jason Buchanan, Rovi
Rating:
NR
Genre:
,
Directed By:
In Theaters:
On DVD:
Runtime:
Studio:
Fortissimo World Sales
Audience Reviews for Bang bang wo ai shen (Help Me Eros)
½
Similarly themed, but less acutely observed than his mentor's work, Lee Kang Sheng's latest directorial effort is worth seeing if you've already warmed to his work with Tsai Ming Liang. The pace is faster here, but that is likely due to Sheng's status as apprentice director. Most of the narrative connections are either subtle or tenuous depending on your point of view. Liang's work typically works best if you've watched it a few times and I expect this would be similar- if I cared to repeat it. Certain scenes could rank with Liang's best- including some involving a cooking show- but other images never rise to their full potential. The themes, which are largely variations on urban alienation and empty consumerism are close to Sheng and my heart, but for the time being, the actor/director strongest work is under Liang. For that reason, I can only recommend this to viewers who are already well versed in his work. But who am I kidding? That's the target audience. No one else is going to seek this out.
Richard Stracke
½
It's not surprising that Tsai Ming Liang's main actor borrows much of his aesthetics including the dead pan gags and the static takes. The first scenes are basically taken straight out of that of The Wayward Cloud. Lee also brings some tracking shots and jump cuts, so it's more like an early Tsai film. Sadly the result is more like a lousy parody of Tsai than a good imitation or a more unique vision. It feels like more of an excuse for Lee to engage in a variety of sex positions while high on marijuana than a sincere film about urban alienation which The Wayward Cloud was.
X. T. C.
Discussion Forum
Discuss Bang bang wo ai shen (Help Me Eros) on our Movie forum!