Bang
(1997)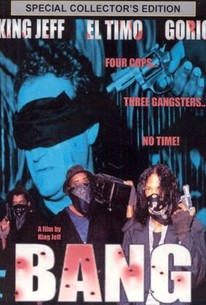 AUDIENCE SCORE
Critic Consensus: No consensus yet.
Movie Info
Gallows humor blends with explosive action and dark mystery as four police officers are tortured and threatened with execution by three sadistic masked gang members. Somewhere in an abandoned garage, three frightened police officers are about to be murdered. No reason is given for their impending execution, causing each of the cops to reflect on the one previous incident they believe may have landed them in such a dire predicament. As the clock ticks down and time starts to run out, it begins to look as if these four unfortunate cops are about to be punished for the simple sin of working in law enforcement. But the explanation for such a heinous crime couldn't be that easy, could it?
Critic Reviews for Bang
All Critics (3) | Fresh (2) | Rotten (1) | DVD (2)
[A]n enthralling exploration of how we as individuals and society as a whole grants clout and influence, and how easy it is to be taken away...

...always keeps you interested, just because you want to see what's going to happen next.


Audience Reviews for Bang
Powerful, unique and fascinating film, enhanced by a fantastic lead performance from Darling Narita. Thought provoking and always interesting, good direction.
James Higgins
My brother recommended [i][b]Art School Confidential [/b][/i]because I went to art school and he knew I would appreciate the humor. The humor in the first half is right on. They made me feel like I was back in school again. The critique scenes were so accurate. I have sat through hundreds of critiques exactly like those. So painful! The story is about a suburban kid, Jerome who enrolls in Art School and hopes to become the greatest artist of the 21st Century. He's obviously got a lot of natural talent, but he is immediately disillusioned by the professors and other art students who only seem to reward the crappy and primitive looking art. I've noticed at my school that the really technically skilled people were often overlooked by the Professors, and people with less talent were praised critique after critique. I have to admit I always wondered why one day my professor would tell me one thing during lab time, and then the exact opposite thing the very next class. Later I just did whatever I wanted and gave up trying to please them. Which is probably what they want anyway, but instead of telling you that they get some perverse joy in messing with all their students minds. In fact there is a scene where the lead character, Jerome asks for help and his Professor played by John Malcovich tells him to "experiment and do all different styles". But when he is critiqued, he tells him that he is "all over the place and needs to find out who he is". *rolls eyes* It's so painful because that has happened to every art student in the history of the world. Anyway the movie kind of loses focus and changes it's mood and seems to go way off the mark. It's still enjoyable, but Jerome stops being this likable naiive artist and turns into an obsessive desperate student who will do anything to win a girl. The girl of his affection is a life drawing model and the daughter of a famous artist that he admires. She is sweet and nice to him until a student with an oddly simple style starts getting all the attention. Then she turns her attention to him. There are other things going on as well, his friendship with a classmate, a campus serial killer, and his relationship with this weird bitter artist living in an apartment in the bad side of town. He seems to learn all the wrong things from each of these people. Wim saw [i][b]Bang[/b][/i], in Holland on TV and had been looking to buy it on DVD for along time. It's not out on DVD, so he finally bought it on VHS so he could at least see it again. It's a low-budget movie directed by a guy called Ash. The lead actress Darling Narita is incredible. She plays an actress living in LA, who hasn't gotten a part in months. She's evicted from her apartment and after arguing with her landlord she leaves to go read for a part with a casting director. Before she goes inside she sits outside his house smoking. She's approached by a homeless man that doesn't seem all there. But since she's a nice person she talks to him and offers him a cigarette. It's obvious from his reastion to her that no one has been nice to him in a very long time. She listens to him and in turn he feels as though he isn't "invisable" anymore. She goes inside and meets the casting director. Right away the audience knows he's a total skeeze. He tries to put his hand on her knee and gets way too close, so she pushes him away. As soon as he's rejected by her, he starts cursing at her and throws her out. She runs out feeling humiliated, and the homeless man from earlier comforts her in the only way his hurt mind can. He starts destroying the offending man's property. The Police are called and this is where everything changes. The motorcycle cop chases her into the woods and tries to exchange her freedom for a little "favor". She ends up taking his gun and handcuffing him to a tree. She steals his uniform and his Police motorcycle. The rest of the movie is her pretending to be a cop and meeting all sorts of people. She feels empowered and finally good about herself. For once men aren't taking advantage of her, but looking to her with respect. The movie is filled with a lot of natural sounding dialogue and genuine emotions. Her life is changed forever by this one day. It's worth renting.
Laura Leydes
Bang Quotes
There are no approved quotes yet for this movie.