Bang Rajan
(2004)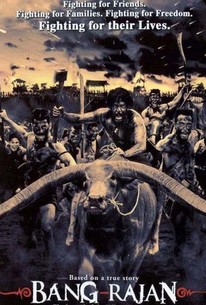 Movie Info
This historical drama from Thailand is based on one of the key historical events in that nation's history. In 1765, Siam (as Thailand was known at that time) was being invaded by Burmese troops, and only one thing stood in the way of the Burmese army seizing control of the capitol city of Ayudhaya -- the tiny village of Bang Rajan. Despite the strength of the advancing Burmese forces, the people of Bang Rajan were determined to fight back, and Taen (Chumphorn Thepphithak) leads a band of villagers who have pledged to face down the enemy. When Taen is severely wounded in an early skirmish with the Burmese, the people of Bang Rajan are forced to turn to Chan Nhatkeo (Jaran Ngamdee), a battle-hardened soldier of fortune who lives alone in the nearby wilderness. Chan Nhateko, understanding the seriousness of the situation, brings in a handful of colleagues, and with their help the people of Bang Rajan prepare to fight the larger and better equipped Burmese army to a standstill. Bang Rajan was shot on a relatively lavish budget ($1.3 million, roughly the cost of four average Thai productions), and proved to be a blockbuster attraction at home, eventually grossing $9 million to become the biggest home-grown moneymaker in the history of the Thai film industry.
Critic Reviews for Bang Rajan
Audience Reviews for Bang Rajan
Based upon historical events when a rural village in Siam continually repelled an invading Burmese army in the 18th century, this story is the Thai equivalent to The Alamo and received an unprecedented 11 awards at the Thai film festival upon its release. I think it must've been a very quiet year. Little more than a series of bare chested sword and musket battle sequences strung together with some unsophisticated attempts at emotional manipulation and soap opera characterisation, Bang Rajan follows the formula of battle sequence, weeping and a-wailing over the dead, corny love scene, macho posturing and repeat. And repeat. And repeat. There is no attempt at setting a historical context to the events, no mention of the political climate and precious little to even give any background to any of the characters. All the Burmese are a bunch of evil, murdering backstabbers and all of the Siamese are noble, saintly heroes and it just feels like an animated war memorial that's all propaganda and no depth. The director shows some ability to represent the battlefield (despite some rather ropey visual effects) but little clue as to how to make the audience actually care who wins.
One of the worst asian flims I have seen that shows early life in asian, the fighting of villagers for land rights, guess you can call them tribes. This is about thai's and Burmanise people. Very boring lots of fighting and killing. Sorry I can only give away 2 stars on this one.
Bruce Bruce
Super Reviewer
Bang Rajan Quotes
There are no approved quotes yet for this movie.