Bangkok Adrenaline
(2010)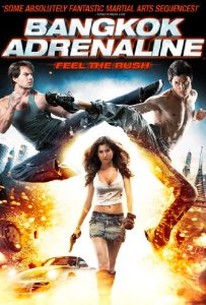 AUDIENCE SCORE
Critic Consensus: No consensus yet.
Movie Info
Four backpackers incur the wrath of a vicious loan shark while living it up in Thailand, and kidnap the daughter of a local millionaire in hope that the ransom will clear their debt. ~ Jason Buchanan, Rovi
Critic Reviews for Bangkok Adrenaline
There are no critic reviews yet for Bangkok Adrenaline. Keep checking Rotten Tomatoes for updates!
Audience Reviews for Bangkok Adrenaline
½
[img]http://images.rottentomatoes.com/images/user/icons/icon14.gif[/img]
Directors Cat
Super Reviewer
Well, this movie sucked. I was looking forward to this after seeing Ong Bak, now after seeing this, i'm convince this is Thailand action movie at it worst. The plot revolve around four backpackers, all played by assholes, arriving in Thailand to party and drink. A gambling game goes wrong and with their lives on the line they desperately decide to kidnap a billionaires daughter, with bad humor involve. Things go wrong when her 'father' doesn't play ball, act professionally, and prefers to use the kidnapping to further his own interests. The story is bad from the beginning and it gets worst as the movie progress. The action is disappointing and not fun to watch. The choreography is poorly done, of course you wouldn't know by how poorly the action scenes are filmed. The action is slow and lack any excitement you would want from a Martial Art movie. As for the acting, same thing, poorly acted and bad humor for the whole movie. Yet despite this, it's a watchable mess of a movie. Also, why are the Americans doing Martial Art in this movie, not to be racist, but the Americans doing Martial Art in this movie don't look convincing and act horribly. Bangkok Adrenaline is a watchable mess that got nothing right in execution. In a genre filled with so many great and memorable movies, Bangkok Adrenaline fails to standout above the competition.
Caesar Mendez
Super Reviewer
"Danger is my breakfast, tell me more." If a bunch of frat boys got together and decided to make a modern, more "extreme" version of Ong-Bak, you'd get Bangkok Dangerous. It's so macho that it's downright goofy, and there's only the barest skeleton of a plot, but I have to admit that it was a pretty fun movie to watch. The story is as basic as possible. Four Brits looking for a good time in Thailand get into serious gambling debts, and decide to kidnap the pretty daughter of a rich businessman and use her ransom to pay their way out of trouble. The scheme goes awry, and they end up having to protect the girl they kidnapped. See? Basic. But with lots and lots of opportunities for fighting. 90% of the movie is one of the guys fighting someone or running from someone. Two of the main characters are capable martial artists, and do most of the fighting. Another is a really huge muscular man who just smashes things/people, and the fourth is basically supposed to be comic relief. Like most of the attempts at humor in the movie, it doesn't really work. He's more annoying than anything else. The fighting is pretty cool, but at times, the choreography seems stiff and obvious. It takes you out of the action when you see people repeatedly prepare for blows, consciously make sure they're in the right place to be hit, etc. Still, the action was frenetic, non-stop, and enjoyable. Bangkok Adrenaline is a long way from a well-made action movie, but I've seen much worse. Keep your expectations at a suitably restrained level, and you'll probably get some mindless kicks out of it.
Bangkok Adrenaline Quotes
There are no approved quotes yet for this movie.
Discussion Forum
Discuss Bangkok Adrenaline on our Movie forum!