Bangkok Girl
(2005)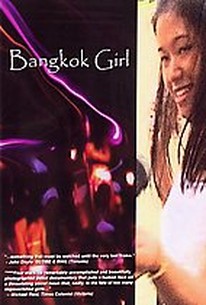 AUDIENCE SCORE
Critic Consensus: No consensus yet.
Critic Reviews for Bangkok Girl
There are no critic reviews yet for Bangkok Girl. Keep checking Rotten Tomatoes for updates!
Audience Reviews for Bangkok Girl
An interesting indie documentary about one girl and her life in the sex industry in Bangkok. You can expect the usual suspects in this film and whilst it is rather short it does bring up some good points and really makes you think. It does look amateur at times but it is still engrossing and the tragic ending is something I was never expecting.
Ian Walker
Super Reviewer
Having been to Thailand many times, studied the language, trained in 6 different Muay Thai Kickboxing camps I can tell you that there is so much more to Thailand than just a few areas of Bangkok and Pattaya. Yet, we seemed obsessed in the West with this element of Thai society. If you want to find prostitution in the west just go to backpage.com run by the Village Voice, in any North American city and you will find plenty. if you want to find pornography just type in sex in Google and look at the Google Adwords sponsored ads for the hardest core porn you can imagine. I cringed watching this film it was so amateurish. This film is the reflection of someone who has been in Thailand for maybe a week. The truth is that most Thai girls who do this work are not being trafficked or forced into this work. Many come from good middle class families and have other alternatives for work. They can just make 10x more working in a bar than working in an office. Many just want to make a car payment or get the latest iphone. And there are many Thai women (many more) who could do this kind of work but refuse. When you look at the society overall Thai women are much less promiscuous than western women. Yes, Thailand is a "poor" country. Yet, healthy cheap food is everywhere. Very few people are starving in Thailand. I would bet we have more malnutrition in the west with our obsession for processed food. We sure are fatter than they are. Most Thais love their country and think their country is the best. If they leave it is just to make some money then come back. The whining narrative of this Canadian was unbearable. I had to stop the film. He felt the same need most expat newbies feel to "protect" or "save" their new Thai girl friend from the life she chose. He really is the one who needs protecting not her. I feel more sorry for him. She seemed happy and resiliant in typical Thai style. As for the sexpats, yes they are there and they can be a little hard to take sometimes. However, many western men find Thai women who do not work in bars and marry them. I knew a French man who married a lovely Thai lady who worked in her family business (not a bar) and she made more money than he did. They were close in age and truly a couple in love. This film just rehashed the old cliches about Thailand without any originality or any true insights into Thai culture. Skip this film just go to Thailand and have your own experiences.
Matt M
½
Key to understanding this documentary is that prostitution is "illegal" in Thailand. Pla, a young female "barmaid" working in a Bangkok bar, that's "only 19" touched the filmmaker's "life" so he made a "documentary" about her. He believes she's not in "the game", he is not sure, so he follows her around with a camera for several months. The filmmaker may be deliberately naive or dishonest about what is going on with himself and Pla that it invites viewers to formulate their own conclusions/criticisms which is perhaps the film's best attribute. The Bangkok scenery is also of interest, as it shows the red light districts, sky train, Chaopraya River and Wat Arun in the background. Variants of prostitution have been in Thailand for centuries, and it is also available and common for non-farang(white westerners), which was not even mentioned. What is admirable is Pla's ability to persevere with a seemingly positive attitude amidst the hardships in her life. Contrary to the filmmaker's ending, it seems more likely that she grew tired of the filmmaker and no longer wanted a negative aspect of her life to be captured on film and thus went incommunicado. As a documentary it's incomplete and naive, and overall serves better as a travelogue to Bangkok nightlife.
P Davidson
Bangkok Girl Quotes
There are no approved quotes yet for this movie.
Discussion Forum
Discuss Bangkok Girl on our Movie forum!