Bank Holiday
(1938)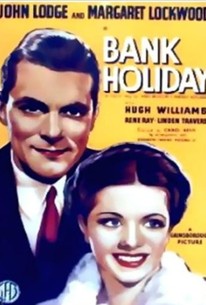 Movie Info
A minor effort from a major director, Bank Holiday is little more than a series of anecdotes involving middle-class Brightoners on holiday. Margaret Lockwood and Hugh Williams played the largest roles, as a couple who find love during their one-day respite from work. Comic relief (which in this film is superior to the straight plotting) is provided by several reliable character actors, notably Wilfred Lawson as an officious constable. The film's major purpose is to poke gentle fun at the foibles of the working class, and as such it doesn't amuse as much as it did back in 1938. Bank Holiday was released in the U.S. as Three on a Weekend.
Critic Reviews for Bank Holiday
Audience Reviews for Bank Holiday
½
Bank Holiday is one of Carol Reed's earliest efforts and it lacks the elements of the classics he would direct a decade later. The film is light, brief, and disposable.
Jeff Dickerson
I probably would have missed watching BANK HOLIDAY if it were not for the name Carol Reed (THE THIRD MAN) listed as director. Indeed, this is one of his earlier efforts and was quite popular with audiences when it was originally released. It was with this film that Reed made a name for himself. I think Reed does a wonderful job here with an unusual love story - deftly balancing drama with comedy. I also like the way the film evokes a sense of time and place - giving modern audiences a feel of what it must have been like living in pre-WWII England - when the masses would go away on summer holiday to seaside resorts. Footage of railway stations and especially scenes of crowds at play at the beaches add much dimension to this film. There is one ominous note though - a newspaper banner shown at the beginning of the film reads "WAR CLOUDS OVER EUROPE" - in fact, during a later scene - the crowds at the beach run for shelter during a sudden thunderstorm - ominous indeed!!! I also like this film because of actress Margaret Lockwood. I have seen her in other films - most notably Alfred Hitchcock's THE LADY VANISHES - but my dvd of THE LADY VANISHES is not the of best picture quality around (it's from a cheap dvd set of 20 Hitchcock films I found in a discount bin for 5 bucks) - so watching Margaret Lockwood in a pristine copy of BANK HOLIDAY was a revelation...like noticing someone for the very first time. My...she was a gorgeous lady! In BANK HOLIDAY she plays a nurse, Catherine Lawrence - assigned to a maternity ward. She hopes to meet her office clerk boyfriend, Geoffrey (Hugh Williams), at the train station after work. They plan to spend a long, carefree holiday weekend together... but a patient under her care, Ann Howard (Linden Travers in a bit role - she too is in THE LADY VANISHES) has serious complications during labor and must undergo emergency surgery. The patient dies - but fortunately the baby survives the operation. Getting top billing is american actor John Lodge (who was terrific opposite Marlene Dietrich in THE SCARLET EMPRESS). Lodge has a much smaller but pivotal role here as Stephen Howard, husband of the deceased. Nurse Catherine tries to comfort and console Howard - who refuses to see his baby. Catherine offers to accompany him home during his time of need. Howard appreciates but refuses the offer - going home alone. He becomes haunted by memories of his dead wife. Catherine finally meets boyfriend Geoffrey at the station - two hours late...but It is soon apparent to Geoffrey that Catherine's mind is preoccupied. She cannot stop thinking about poor (and handsome) Howard...which leads to petty quarreling fueled by jealousy on Geoffrey's part. The quarreling will test their resolve to commit to their relationship. As the story progresses - Catherine becomes increasingly concerned about Howard's welfare. The subject matter may seem tame by today's standards but was viewed as a bit risque in 1938. The film was censored during it's american release - in an effort to tone down the implications that an unmarried couple would spend - OH MY - the weekend together! A scene showing them trying to check into a hotel room and trick a suspicious desk clerk that they are indeed married is amusing because of their discomfort. I also like how in one scene at a swimming pool, Catherine - dressed in a one piece bathing suit & swim cap (Lockwood looks especially nice here)- she changes her mind about diving into the pool after catching Geoffrey ogle her body. We can take a hint that Catherine is having second thoughts about "diving" completely into their relationship. So BANK HOLIDAY can also be viewed as a comedy of manners. There are other characters whose stories are intertwined with that of Catherine & Geoffrey's: Doreen Richards (Rene Ray) just broke up with her boyfriend and has entered the local beauty pageant in hopes of gaining back some confidence and self esteem after her failed relationship. Doreen is traveling with her naive friend, Millie (Merle Tottenham) - who has never had a boyfriend (or even been kissed). They both have an instant disliking for a rival beauty contestant, "Miss Mayfair" (Jeanne Stuart) - whom they view as a bit of a tart (as Miss Mayfair is always seen with a different man). Millie also has her sights on (and dreams about) the two handsome soldiers seen wandering around town...but I think it's implied that the two soldiers are gay. Also on holiday is a cockney couple, Arthur and May (Wally Patch & Kathleen Harrison) with their three, somewhat bratty kids in tow. It's funny how you can feel a sense of panic when their little girl wanders off into a crowd during one scene at the train station (You wonder how folks ever survived without cellphones).I think Arthur & Mary represent what the future may hold for Catherine & Geoffrey - if their relationship would stay the course. 8
bernard anselmo
Bank Holiday Quotes
There are no approved quotes yet for this movie.
Discussion Forum
Discuss Bank Holiday on our Movie forum!