Banshee!!!
(2010)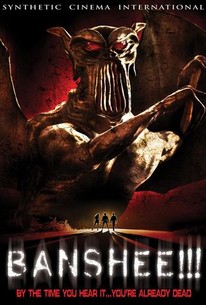 AUDIENCE SCORE
Critic Consensus: No consensus yet.
Banshee!!! Photos
Movie Info
A mysterious beast with the power to control sound waves torments a group of vacationing college students, who must devise a method of defeating their otherworldly tormentor or die trying. Their perceptions of reality twisted by the telepathic creature, the terrified students flee to a secluded farmhouse and prepare to make their last stand.
Rating:
R
Genre:
Directed By:
Written By:
On DVD:
Runtime:
Studio:
Synthetic Cinema International
Cast
Critic Reviews for Banshee!!!
All Critics (1) | Fresh (0) | Rotten (1)
The writing is about halfway there, the acting isn't too bad and the computer-generated banshee effects are just good enough to register a "meh."

Audience Reviews for Banshee!!!
½
A group of friends spend their Spring Break in Connecticut and are attacked in their camping site by a banshee that has the ability to shape-shift into anything it wants. They eventually take shelter in a house occupied by a local and his nephew which have been battling the banshee for the last couple of days prior to their visit. Banshee!!! suffers from some forced acting and a bit of dodgy camera work. The banshee also had it's bouts of horrible editing and doesn't give off any kind of frightening aspects. The screech it emits comes off as annoying, plus coupled with the dialogue that these characters provide, you can't but hope that they die off quickly. Which brings me to the satisfying part of the film, Banshee!!! dives right into the gore, killing off a couple of the friends almost instantly. I thought I was going to be subjected to a long build-up, but the film came through with a quickening plot. The storyline had a nice ring, but it fell flat because of the amateurish set-up. Maybe with a larger production, the film could have been something special. Instead it's just another reject in a long line of Sci-Fi films. I give the film one thing, though; the gore is mighty impressive for being a low-budget film. When the banshee screeches, heads explode and we're greeted with some nice severings of face and body; with a walking human torso. At least the film comes away with some kind of entertaining factor.
Rob Cisneros
½
Banshee!!! is the story of the titular beast that has just been awoken from a long dormant sleep of over 30 years and is eager to viciously tear apart a group of dim-witted young campers. Wasting zero time, the body count skyrockets as a few manage to make it to a distant house where an older man and his nephew have apparently been under siege by this creature for several days. The rest of the movie has this unique group of characters attempted plan after plan after plan of attempting to escape or killing the beast, all to no avail. Despite the atrocious acting at times, the goofy usage of CG, and the unusual way this film is carried out, Banshee!!! is surprisingly entertaining. Thanks to a large body count consisting of some fun, gory deaths, Banshee!!! manages to be an unlikely fun movie, where audiences can really get into and marvel at it's sometimes thrilling moments and especially campy moments. Though filmed to the brim with mostly unknown actors, these folks give off a good vibe and make it seem as though everyone is having fun on this project that, for once, is purely 100% American. No filming in Canada, Romania, or Bulgaria and pretending it's in America bullshit that these low-budget horror films do nowadays. Now that I respect. As I said, lots of LOL moments, especially a musical attack that seems like a very bad but hilarious music video! Also, very intriguing and odd way to end the film with a rushed montage of clips from the climax to make way for a cinéma vérité (Blair Witch Project, [REC], Cloverfield) style ending. Definitely a cool guilty pleasure horror film!
Jason Duron
Discussion Forum
Discuss Banshee!!! on our Movie forum!
News & Features