Bar Girls
(1995)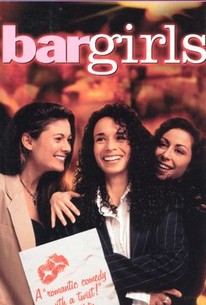 Movie Info
The ins and outs of modern lesbian relationships are explored in serio-comic film. It is adapted from a stage play by Laura Hoffman. Loretta is lonely. As she is leaving Girl Bar she encounters a very beautiful woman, Rachel. Impetuously, Loretta bets a friend that she will have Rachel in her car within 10 minutes. Loretta wins the bet and Rachel goes home with her. As they talk, it becomes quickly apparent that while interested in a relationship, neither woman is free. Loretta is still with Annie who is in love with a heterosexual female. Rachel, still involved in a deteriorating marriage, is with Sandy. Loretta and Rachel decide to give it a try anyway, but their relationship is complicated by intrusions from their earlier relationships who present many obstacles.
Rating:
R
Genre:
, ,
Directed By:
Written By:
In Theaters:
On DVD:
Runtime:
Studio:
Lavender Circle Mob Productions
Audience Reviews for Bar Girls
(from The Watermark 05/12/95) It is so wonderful to be a gay moviegoer and see films that deal with gay life. These rarities seldom begin in Hollywood; most often they are foreign or independently made and later picked up by a studio for national release (i.e., Priscilla, The Crying Game, and The Sum of Us). Orion Pictures is the studio brave enough to bring Bar Girls to the mainstream movie houses. Exactly why they chose this picture remains an unanswered mystery, as the film sadly proves to be no jewel in Orion's crown. In Bar Girls, love-hungry lesbian Loretta (Nancy Allison Wolfe) is out to find her Ms. Right. At her hangout spot, the Girls' Bar, she meets an actress named Rachel (Liza D'Agostino) and the two quickly fall in love and move in together. Complications arise when a cop (Camila Griggs) steps into the picture, with her goals set on befriending D'Agostino without Wolfe's company. This causes jealousies and tension to surface, and the two lovers split. Wolfe learns to love herself (just how is never explained or shown), reconciles with her mate, and they live happily ever after. Such a flimsy girl-meets-girl, girl-loses-girl, girl-ends-up-with-girl-anyway plot needs something substantial to make it interesting. Well-developed characters, an interesting atmosphere, and maybe even a strong soundtrack could make it more appealing. Unfortunately, none of these elements are present to lend their help to Bar Girls. Thus, the film is a long-winded and trite account of a bland romance. Directed by Marita Giovanni, the film succeeds technically as far as composition and editing, but the staging is at times too broad and theatrical. Lauran Hoffman's script, based on her play, has a lot of enjoyably sharp and sarcastic humor. However, the fact that she injects it into every character on the screen leaves little contrast to be found among the ensemble. Aside from the jokes, the dialogue is generally stilted an jaunty. To worsen the effect, the one-dimensional characters are all played by one-dimensional actresses who create no emotion below the surface. For the most part, the performances look like they might wash on stage, but they come off as unprofessional and inexperienced on screen. Wolfe clearly gives the best performance in the film; she handles her material well as the wise-cracking and self-deprecating Loretta. Unfortunately, Loretta's quick wit is present in almost every one of her lines, which weakens her into little more than a quipping wise-ass. When the facade finally does start to peel away, it happens too late in the film, and takes place in the form of a monologue delivered to a mirror - again, a device that would work effectively on stage, but seems corny on screen. The biggest disappointment of Bar Girls is that it does very little to illuminate the "lesbian condition" to outsiders. The film could have taught both the gay and straight communities a few things about women who love women, but instead we're shown that lesbians can be as shallow and stupid as anybody else. The only time Bar Girls comes close to saying anything of substance is when Wolfe criticizes Griggs for being a police woman: "Cops enforce the white male power system." Aside from this moment, the film tries to portray lesbians as very apolitical and matter-of-fact. In the end it looks more like a trivialization of homosexual love in this heterosexist world. Take, for example, the subplots: One of Loretta's very straight friends decides she wants to become a lesbian. And she does! No contrast of the heterosexual world vs. the homosexual world, no parallels between the two, and no conflicts within the character. In another subplot, Loretta is trying to get a lesbian story worked into an episode of the TV cartoon she produces. The struggle could have paralleled Loretta's journey in trying to make her relationship work; instead, the film turns to the ridiculous by having Loretta kidnap a troll doll from her boss and hold it hostage until she gets her way. As a product of a community with so many things to say and messages to be heard, it is astounding how this film manages to say so little. It is full of seedlings of ideas that could have illuminated and entertained, but none of them are brought to fruition. Now that the demands for mainstream lesbian & gay cinema are starting to be heard, Bar Girls is proof that it's now time to demand better. POST-REVIEW 11/22/2009: I still look back at this as the worst film I had to sit through in my entire 6-year career as a film critic. I equate it to the epitome of amateurism in cinema, from the writing to the directing to the music to the acting... just dreadful on all accounts. I am required to give a % rating in order to post this review, meaning I can't let the Tomatometer read 0%. But know that 10% is not as low a rating as I'd like to give.
David Almeida
Hmm... Dyke Drama at it's worst.. It's not a terrible movie, but was still pretty cheesy... I really didn't care for ANY of the characters.. they are all cheating on someone.. or encouraging OTHERS to cheat WITH them.. Cute movie, but not one I'd likely watch again.. a good reminder why I don't go to bars to meet someone.... on the flip side however, a reminder why I'm still alone.. being that is the only place to meet someone here.. grr
Anne Still
Bar Girls Quotes
There are no approved quotes yet for this movie.
Discussion Forum
Discuss Bar Girls on our Movie forum!