Barbarians at the Gate
(1993)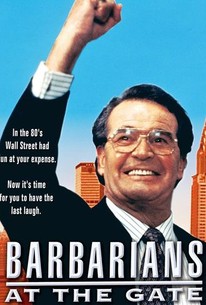 Barbarians at the Gate Videos
Barbarians at the Gate Photos
Movie Info
In this immensely-entertaining TV movie, CEO F. Ross Johnson has just been burned by a failed product and begins drawing up plans to buy the company outright so he'll have no one to answer to but himself. Unfortunately for Johnson, his company is being coveted by a sharkish "buyout king."
Critic Reviews for Barbarians at the Gate
All Critics (6) | Fresh (4) | Rotten (2) | DVD (1)
Makes the greedy rich who buy and sell ordinary folks' futures seem almost lovable.
Capital Times (Madison, WI)
Rubbish with Garner whitewashing a real life villain
Highly effective TV-movie with memorable Garner performance.

Audience Reviews for Barbarians at the Gate
I had higher expectations for the film. It looked funnier based upon a clip I had seen before on the film on YouTube but for myself the film proved to be not as good of a film besides the one scene where they are looking at a healthier cigaret that has more side-effects compared to the benefits. I did like the intro showing what James Garner was like as a boy in 1940 & a teenager and I like text at the begging that said "A long time ago Billions of Dollars ago".
STCENTERPRISE .
If ever there was a sublime comedy to make you gag about the rich, this is it. Satire based on true story of a corporate takeover in the 80's. James Garner won't disappoint his fans, he comes right out the Rockford Files only wealthy. The main criticism of this film for me is the premise. Though based on a true story, it's not a human interest story. It is about corporate America and greed. A business comedy I do not need. On this one, decide for yourself. Two thumbs up by Siskel and Ebert, btw. [img]https://encrypted-tbn0.gstatic.com/images?q=tbn:ANd9GcT9ufsVd7Zc-3QIk3FBUD_z0YuemVFNb_aka469r5z5pBsmcCSb[/img] SEE the entire film here: http://www.youtube.com/watch?v=iPhF_YwWvoM [img]http://i1.ytimg.com/vi/iPhF_YwWvoM/hqdefault.jpg[/img] Deals made in the restroom by adversaries REVIEWS by those like us: 100% Very well rounded story and quite funny. Worth the watch. 80% I guess part of the ratings are swayed by "expectations". I didn't expect a whole lot of entertainment from this movie, but I actually laughed in sev... [img]http://static4.businessinsider.com/image/4f28232aeab8ea2834000003-1200/every-penny-you-think-im-pissing-away-here-comes-back-to-us-dressed-up-like-a-nickel.jpg[/img] NOTES: 1 Larry Gelbart, writer of the film, wrote M.A.S.H. television comedy series as well as other films like Tootsie. 2 Barbarians at the Gate is a television movie based upon the book by Bryan Burrough and John Helyar, about the leveraged buyout (LBO) of RJR Nabisco. [img]http://img.timeinc.net/time/magazine/archive/covers/1988/1101881205_400.jpg[/img] Distributed by Home Box Office Directed by Glenn Jordan Produced by Ray Stark Based on Barbarians at the Gate: The Fall of RJR Nabisco by Bryan Burrough John Helyar Music by Richard Gibbs Editing by Patrick Kennedy Country United States Language English Release date March 20, 1993 Running time 107 minutes [img]http://i1.ytimg.com/vi/c_scWCeDlWw/hqdefault.jpg[/img] Cast[edit] Tom Aldredge as Charles Hugel Graham Beckel as Don Kelly Joanna Cassidy as Linda Robinson Matt Clark as Edward A. Horrigan, Jr. Jeffrey DeMunn as H. John Greeniaus Peter Dvorsky as George R. Roberts James Garner as F. Ross Johnson Mark Harelik as Peter Atkins Joseph Kell as Nick Forstmann Jonathan Pryce as Henry Kravis David Rasche as Ted Forstmann Peter Riegert as Peter Cohen Leilani Sarelle as Laurie Johnson Fred Dalton Thompson as Jim Robinson Rita Wilson as Carolyne Roehm-Kravis [img]http://upload.wikimedia.org/wikipedia/en/thumb/9/95/BarbariansAtTheGateDVDCover.jpg/250px-BarbariansAtTheGateDVDCover.jpg[/img]
monsieur rick
A very well rounded story. One thing that bothered me was the score... excessively used 80's jazz saxophone made the whole movie come across as a quirky comedy. Goes to show you that music [does] set a pace on all flicks.
Dr. AlphonSeuss
Barbarians at the Gate Quotes
There are no approved quotes yet for this movie.
Discussion Forum
Discuss Barbarians at the Gate on our Movie forum!