Barking Water
(2009)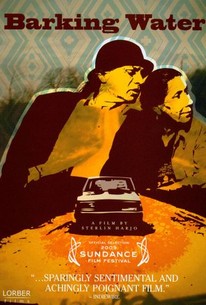 Movie Info
A couple who've been apart for years are brought back together by difficult circumstances in this independent drama. Frank (Richard Ray Whitman) is a man of Native-American heritage with a checkered past who was once married to Irene (Casey Camp-Horinek). While Frank's love for Irene never died, she grew tired of his wayward ways and they broke up. After many years apart, Irene gets word that Frank is in the hospital; he's dying of cancer, and desperately wants to make his peace with his daughter and granddaughter before he goes. Since Frank isn't well enough to travel on his own, Irene agrees to help him drive across Oklahoma for the meeting, and as they make their way across the state they're reminded of why they fell for one another (and why their love didn't last). Frank and Irene also meet a variety of interesting characters along the way as they travel through Oklahoma's Native American communities. Barking Water received its world premiere at the 2009 Sundance Film Festival.
News & Interviews for Barking Water
Critic Reviews for Barking Water
Audience Reviews for Barking Water
Harjo is clearly giving his all in trying to convey a soulful mysticism in this existential journey. But the tone becomes a little ham-handed with all the lengthy interludes of barren fields, roadside fences and tracking shots of the ever-moving Volvo.
Lee Mayo
I'll just post what the New York Times reviewer published this week - because he says it better than I can. Barking Water opened in Manhattan on 5-12-2010 for a five night run at the Museum of Modern Art. This is an amazing film. Barking Water (2009) A Road Trip to the End of the Road By STEPHEN HOLDEN New York Times Published: May 12, 2010 Sterlin Harjo's spare, cosmically solemn film "Barking Water" follows the road trip across Oklahoma made by an American Indian man and the woman he loved and left, who has come back at the end of his life to help him die. Their destination: Wewoka, capital of the Seminole nation. As the story begins, Frankie (Richard Ray Whitman), who is in the final stages of cancer, is wheeled from a hospital bed to a battered station wagon driven by his best friend and former lover, Irene (Casey Camp-Horinek). "I owe you this one, Frankie; I'll get you home," she promises early in the emotional journey, during which there are several stops, the first at a self-service gas station from which she speeds off without paying after looking into her nearly empty purse. The two haven't seen each other in the years since Frankie left Irene for reasons that are barely hinted at. In revenge, Irene recalls, she lied to her brothers about his being physically abusive, and they beat him up. But as they make their way to Wewoka, the home of Frankie's estranged daughter and a grandchild he has never seen, it is obvious that their souls are entwined, even if Irene's old wounds haven't entirely healed. Along the way they stop and stay goodbye to assorted friends and relatives, including Irene's rowdy nephews, one of whom makes the movie's only funny wisecrack: "Do you have a plan for when the zombies attack?" They pass a factory whose pollution, Irene believes, gave many of the nearby residents cancer. When they pause in a field for a ceremonial burning of sage, the owner of the property appears and angrily accuses them of practicing voodoo. But on being told of Frankie's illness, he relents and offers them marijuana to ease Frankie's nausea. This is a movie in which people, underneath their fears and prejudices, are fundamentally good. Frankie and Irene pick up a pair of hitchhikers, stop at roadside greasy spoons and visit a church. Their only disagreement is minor and has to do with Frankie's insistence on playing the same song over and over until Irene can't stand it and stops the car. The Oklahoma flatlands enhance the film's cosmic perspective, as do the silences in a screenplay whose rhythms and dialogue often feel self-consciously stagy. During those silences the camera studies Frankie's and Irene's handsome, haggard faces, which convey, more than words, the dignity of two people who have lived intensely and carry many regrets. Frankie's deep, rumbling voice, even when weakened, lends his remarks a weighty finality. "I still love you, always have, always will," he murmurs and remembers a perfect day they once spent fishing. As his strength ebbs, and his mind drifts, Irene tries to talk him back to consciousness, begging him to remind her of that day. In investing its characters with such stoic nobility, "Barking Water," which has the first of six screenings on Wednesday at the Museum of Modern Art, risks sentimentality. But the quiet humanity of the performances infuses the movie with a truthfulness that outweighs its flaws.
Samantha Ardmore
½
One can't help but feel like a bully for picking on a film like Barking Water. Shot on what surely was a shoestring budget; this third feature by writer/director Sterlin Harjo (whose previous film, Four Sheets to the Wind, won the 'Special Jury Prize' at the 2007 Sundance Film Festival) is basically a tone poem concerning a dying Native American man as he heads on a final road trip of potential redemption and peace. This is obviously a labor of love for all involved, but you've seen variations on this story many times before. Barking Water does little to differentiate itself from the pack. A token amount of plot - Frankie (Richard Ray Whitman) is a Choctaw Indian who is at last succumbing to disease and old age. But before he departs this Earth, he convinces his friend and occasional lover Irene (Casey Camp-Horinek) to drive him to see his estranged daughter, so that he may make amends for sins past and meet his grandchild for the first time. Although Irene is reluctant as their friendship ended years ago on bad terms, she eventually agrees to soothe her own guilt, and their friendship is renewed as they embark on one final adventure together. The rest of the film unfolds basically as you'd expect it to. There are long, dialogue-free scenes of characters simply watching the road and the scenery around them (often constructed as music-video style montages), there are encounters with colorful locals, and there are moments of shared pain and reconciliation. There is quite a bit of atmosphere to this film, but it's difficult to disguise the fact that very little happens. I cannot go on at length about favorite moments or favorite dialogue because there are very few incidents and not a lot of dialogue. The majority of the film takes place in a single moving automobile, and much of that time is spent in quiet reflection. Again, the picture attempts to be a tone poem, but the film fails to define itself past its well-worn narrative hook. For much of its length, it is basically a filmic road trip through rural Oklahoma. To be fair, the acting is more than adequate, and Richard Ray Whitman is genuinely noteworthy. He has an incredibly detailed face, something suggesting a colorful James Bond villain. Also, the film is not overly sentimental, so the moments where the emotion does push through feel earned and not cheap. Barking Water is not a bad film by any definition, merely a relatively uninvolving one. The final moments have a certain power, but then it is difficult not to be moved by the closure on a long and storied life. Unless you are a fan of Native American cinema, I cannot truly recommend seeing Barking Water. It may be a noble failure, but that does not make it a success.
Scott Mendelson
Barking Water Quotes
There are no approved quotes yet for this movie.
Discussion Forum
Discuss Barking Water on our Movie forum!