The Barkleys of Broadway
(1949)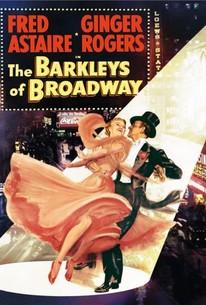 The Barkleys of Broadway Photos
Movie Info
The Barkleys of Broadway became Fred Astaire and Ginger Rogers' "reunion" picture purely by accident. Originally conceived as a follow-up to the successful Astaire-Judy Garland vehicle Easter Parade, Barkleys was to have starred Fred and Judy as a successful musical comedy team that breaks up when the female half decides to become a "serious" artist. Just before shooting started, Garland fell ill, Rogers replaced her, and the rest, as they say, is history. The script is as thin as a spider's web, a mere coat-rack upon which to hang several topnotch musical numbers. Fred and Ginger aren't quite as footloose and fancy-free as they were in their RKO heyday, but they still work together seamlessly. The film's highlights include "My One and Only Highland Fling," "You'd Be Hard to Replace," a reprise of "They Can't Take That Away From Me" (originally performed by Astaire and Rogers in Shall We Dance?), and Oscar Levant's keyboard rendition of "The Sabre Dance." The film's least memorable moment is the play-within-a-play wherein Rogers, cast as the young Sarah Bernhardt, passionately recites "The Marseillaise" as an audition piece!
Critic Reviews for The Barkleys of Broadway
Audience Reviews for The Barkleys of Broadway
The tenth and final in a long Rogers and Astaire saga, the Barkleys emphasize all the real life struggles of the pair: Rogers trying her hand at being a serious actress, the pair's unprecedented hospitality in their real life partnership, and the follies of show business. Including one of Rogers most dramatic and sensational turns, and a shoe stepping routine unheard of in musical theater, the Barkleys took Broadway and the film industry by storm.
Spencer S.
Super Reviewer
A decade after their ninth and final film together, Rogers and Astaire were paired together again, thanks to a twist of fate. Although Judy Garland was originally cast to star opposite Fred Astaire, she became ill, and Ginger Rogers was tapped to replace her.
And as an added bonus: Geez that Oscar Levant is a monster talent. The man appointed by George Gershwin to interpret his music, Levant proves again his musical and his acting ability.
For historical purposes, if for nothing else, this Rogers and Astaire tenth and final project together must be seen.
Lanning : )
Super Reviewer
The Barkleys of Broadway Quotes
There are no approved quotes yet for this movie.