Barn of the Naked Dead
(1973)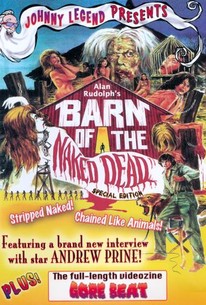 AUDIENCE SCORE
Critic Consensus: No consensus yet.
Movie Info
In this slice-n-dicer set in the Nevada desert, a psychotic slasher abducts pretty women and gleefully, graphically hacks them up with his butcher knife while his radioactive, horribly deformed father terrorizes the local town. The film is one of the first made by quirky director Alan Rudolph.
Critic Reviews for Barn of the Naked Dead
There are no critic reviews yet for Barn of the Naked Dead. Keep checking Rotten Tomatoes for updates!
Audience Reviews for Barn of the Naked Dead
½
Alan Rudolph (!) directed this mess of a movie which only features a glimmer of Rudolph's future directing skills.
Michael Troudt
½
Clearly made up as they went along; I can't believe that there was a screenplay this rambling. It's all over the place, starting out with a crazy guy with a fondness for sheepskin and ringmaster suits (Andrew Prine) kidnapping women and keeping them in a barn. He's training them for some kind of circus, you see. Why? Damned if I can figure it out. Then, however, it all veers into some sort of nonsense involving H-bomb testing that turns ringmaster-boy's dad into a bloodthirsty, poorly made-up mutant... who wants to scratch the women in the barn with his really long fingernails and... ummm... yeah. An hour and a half of bad 70s grindhouse improv set to stereotypical porno movie music. Freak out groovy, sheepskin ringmaster duuuuuuude!
Brian Seitzman
A very sadistic tale of a guy whole locks up, tortures, and forces women to preform circus tricks in his barn, all the while an agent and deputies fumble around trying to find the missing women. Most of this movie is the females trying to escape the barn while Andre, the owner of the barn keeps them in check. A nuclear mutated monster is running around in the desert cleaning up after Andre's escapees also which makes the movie more fun because of the gore effects. This film reminds me a lot of Wolf Creek with a 70's feel and a monster thrown in. Well shot by Alan Rudolph as well who went on to make higher budget movies. Its weird that people can do that after making films like this one
Ian Bracken
Barn of the Naked Dead Quotes
There are no approved quotes yet for this movie.
Discussion Forum
Discuss Barn of the Naked Dead on our Movie forum!