Baron Muenchhausen
(1943)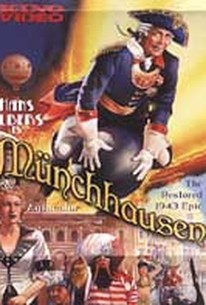 AUDIENCE SCORE
Critic Consensus: No consensus yet.
Movie Info
Rating:
NR
Genre:
Directed By:
Runtime:
Critic Reviews for Baron Muenchhausen
All Critics (3) | Fresh (2) | Rotten (1)

Ozus' World Movie Reviews
Badly constructed, overly talky and sometimes just plain dull. But as a rarely seen artifact of its time, it's invaluable and strangely unsettling.

Mountain Xpress (Asheville, NC)
Opulent but emotionally cold.

Audience Reviews for Baron Muenchhausen
Commissioned in 1942 by Nazi Propaganda Minister Joseph Goebbels and with a script written by banned author Erich Kastner, the last thing you'd expect from Munchhausen is a charming little escapist fantasy, and yet that's exactly what you get. Baron Hieronymus Von Munchhausen flits across Europe, seducing Catherine the Great and engaging in duels with irate noblemen before a magician gives him a ring which will turn him invisible for one hour, and also grants him one wish. Munchhausen wishes to remain the "age I am now, for as long as I wish to be", and thus is granted immortality. His companions also have extraordinary powers: one has built a musket which can hit a target one hundred miles away, while the other can run hundreds of miles in an hour, without even getting winded. Munchhausen is captured by the Ottomans when the cannonball he's riding crashes into the palace. They escape by hot air balloon and travel to the moon, where they meet a race of humans who can detach their heads from their bodies. Somehow Munchhausen makes Terry Gilliam's re-make, "The Adventures of Baron Munchausen" seem sensible. It's an absurdist fantasy that's almost like an acid trip without the acid. Technically, the sets, the costumes, even the color technique used (agfacolor) are some of the best of any time period, and there is an interesting combination of mischief and poetry to the Baron's character, thanks to a great scrip. Surprisingly, there's quite a bit of nudity in this film (at least it seems like alot for 1943), and the Baron isn't shy in his seductions of the ladies. Munchhausen is quite an interesting piece of history, from many angles, and something I'd recommend to any fans of Gilliam's film.
Devon Bott
Super Reviewer
½
I'M NOT THERE (2007) I'll admit it - I'm not a huge Bob Dylan fan. I saw him once in concert and I enjoyed it, and there are lots of songs of his that I enjoy, but I wouldn't include myself in the category of "fan". In spite of my intial bias going in, I'M NOT THERE is a good film. That should be emphasized - it's a good [i]film[/i]. As far as biopics or music movies go, maybe not, but as an innovative film - yes. Christian Bale is great, Cate Blanchett is such a bad ass, and Heath Ledger is only mildly annoying (which speaks volumes, considering his usual terribly irksome self). But the film is worth seeing if for nothing else than Blanchett's performance & the "Ballad of the Thin Man" sequence. MUNCHHAUSEN (1943) Made for the 25th Anniversary celebration of UFA, MUNCHHAUSEN was a special project commissioned by Goebbels. Filmed in bright, Agfacolor film, MUNCHHAUSEN is a re-telling of the adventures of the famed German baron. Immediately surprised by the bright color filmstock, I became more surprised as I found that this film is [i]funny[/i] and a lot of [i]fun[/i] - not how you would describe most Nazi cinema products. It's fun to watch, but it's fascinating if you take a deeper look as well. There are so many places in the film that you ask yourself, how did this get by the censors? It can definitely be read as subversive, and it's hard to see what kind of ideology it could be pushing. I also watched half of [i]Diva [/i]for class, but I never finished it so probably shouldn't rate it. But I found the first half dull and cliche. Hope everyone is well!
Melanie R
½
[center][img]http://www.criterionco.com/content/images/full_boxshot/227_box_348x490.jpg[/img][/center] [center][i]Le Corbeau[/i] (Clouzot 43')[/center] [left]After being impressed by Clouzot's [i]Diablolique[/i], I expected [i]Le Corbeau[/i] to be a dark thriller in the same vein as [i]Diablolique[/i]. What I got was a film that was void of much suspense, because it was a who-dun-it. This film shames Clouzot's title of "French Hitchcock", because of the fact that it is a who-dun-it. If only Clouzot would've changed the structure of the film, so that the raven was known earilier in the film, this film would have been more suspenseful.[/left] [left]Enough bashing though. The cinematography, story and the ending actually make the film fresh. I need to watch some more Clouzot films because after this one, I was left with the impression that he should not be named the "French Hitchcock".[/left] [left][b]Rating: 6.5/10[/b][/left] [left][b]--------------------------------------------------------------------------[/b][/left] [center][img]http://imagecache2.allposters.com/images/MG/206168.jpg[/img][/center] [center][i]Coffee & Cigarettes[/i] (Jarmusch 04')[/center] [left]I'm as divided with this film as I am with Jarmusch's filmography. Half the skits are pretentious and try to be too "real". The other half of the skits are more kinetic, fun and very enjoyable. In his filmography, [i]Stranger than Paradise[/i] represents the former and [i]Dead Man [/i]represents the latter. [/left] [left]The skit with Jack and Meg White and the skit with Billy Murray were my favorite two. The Waits/Iggy Pop and Monila/Coogan were also good. There were a couple others that were ok, but then the rest were a waste of time. So, Jarmusch pretty much spans the tomatometer if each skit were to be rated individually.[/left] [left][b]Rating: 5.5/10[/b][/left] [left]--------------------------------------------------------------------------[/left] [center][img]http://www.horschamp.qc.ca/images/photos/munchausen3.jpg[/img][/center] [center][i]Münchhausen[/i] (Von Baky 43')[/center] [left]Pales in comparison to Gilliam's version. In fact it was kind of boring and tedious when compared to Gilliam's version. Also, the lead actor that played Munchausen grated my nerves. I was surprised that it was in color, since it was made in 1943. I had to double check imdb to see if I had the right version, but sure enough it was one of the first films to be made in color. Overall, I was extremely disappointed, since I thought it might be as good as Gilliam's version.[/left] [left][b]Rating: 5.0[/b][/left]
Michael Toomes
Discussion Forum
Discuss Baron Muenchhausen on our Movie forum!