Baron Muenchhausen
(1943)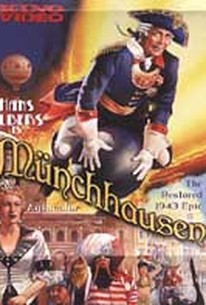 AUDIENCE SCORE
Critic Consensus: No consensus yet.
Critic Reviews for Baron Muenchhausen
All Critics (3) | Fresh (2) | Rotten (1)
Badly constructed, overly talky and sometimes just plain dull. But as a rarely seen artifact of its time, it's invaluable and strangely unsettling.
Opulent but emotionally cold.
November 23, 2004 | Rating: 2.5/5
Audience Reviews for Baron Muenchhausen
Commissioned in 1942 by Nazi Propaganda Minister Joseph Goebbels and with a script written by banned author Erich Kastner, the last thing you'd expect from Munchhausen is a charming little escapist fantasy, and yet that's exactly what you get. Baron Hieronymus Von Munchhausen flits across Europe, seducing Catherine the Great and engaging in duels with irate noblemen before a magician gives him a ring which will turn him invisible for one hour, and also grants him one wish. Munchhausen wishes to remain the "age I am now, for as long as I wish to be", and thus is granted immortality. His companions also have extraordinary powers: one has built a musket which can hit a target one hundred miles away, while the other can run hundreds of miles in an hour, without even getting winded. Munchhausen is captured by the Ottomans when the cannonball he's riding crashes into the palace. They escape by hot air balloon and travel to the moon, where they meet a race of humans who can detach their heads from their bodies. Somehow Munchhausen makes Terry Gilliam's re-make, "The Adventures of Baron Munchausen" seem sensible. It's an absurdist fantasy that's almost like an acid trip without the acid. Technically, the sets, the costumes, even the color technique used (agfacolor) are some of the best of any time period, and there is an interesting combination of mischief and poetry to the Baron's character, thanks to a great scrip. Surprisingly, there's quite a bit of nudity in this film (at least it seems like alot for 1943), and the Baron isn't shy in his seductions of the ladies. Munchhausen is quite an interesting piece of history, from many angles, and something I'd recommend to any fans of Gilliam's film.
Devon Bott
Super Reviewer
Baron Muenchhausen Quotes
There are no approved quotes yet for this movie.
Discussion Forum
Discuss Baron Muenchhausen on our Movie forum!