Bashu, the Little Stranger (Bashu, gharibeye koochak)
(1989)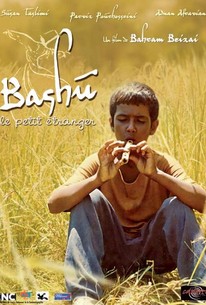 AUDIENCE SCORE
Critic Consensus: No consensus yet.
Bashu, the Little Stranger (Bashu, gharibeye koochak) Photos
Movie Info
This touching, thought-provoking Iranian children's drama has a simple story, but complex undertones as it is simultaneously a quiet plea for peace and tolerance, an entertaining story and a sly, metaphorical criticism of Moslem fundamentalist thinking. It also presents a view of Iranian rural life seldom seen by Westerners. Though the Iranian government sponsored the film, they banned it for the above reasons. Bashu is a 10-year-old boy living in war-torn southern Iran. During an Iraqi attack on his village his mother ends up burning to death when her veil catches fire, and his father disappears through a hole that suddenly appears beneath his prayer rug at home. Bashu witnesses the deaths and is so terrified that he leaves his ravaged village and sneaks aboard a northbound truck. Exhausted, he falls asleep and doesn't wake until the truck stops briefly in a northern village. The boy is astounded by the cool green of the place. Suddenly an explosion from a nearby construction site rocks the ground. Thinking the place is being bombed, the lad heads for the forest as the truck rushes off. Bashu wanders about and ends up asleep in a lean-to beside a rice paddy that belongs to a young mother, Nai, who raises her two kids alone while her husband is off looking for employment. At first she tries to get him off her property but then changes her mind and quietly (northern Iranians speak a different language from their southern counterparts, but both share the same writing system) begins to help him. She thinks the help is only temporary and that his parents will soon arrive to get him. He thinks she is adopting him. Bashu proves to be a good, helpful boy. Unfortunately, the townsfolk dislike him because he looks and acts so differently. Good Nai tries to protect him from their prejudice, but it is difficult. Her husband compounds matters when, in a letter, he insists that Bashu leave. Meanwhile the boy is beaten up by the local children and at this point his future is uncertain. Fortunately, Nai's husband returns and decides that Bashu does indeed have a place in their little family. ~ Sandra Brennan, Rovi
Critic Reviews for Bashu, the Little Stranger (Bashu, gharibeye koochak)
There are no critic reviews yet for Bashu, the Little Stranger (Bashu, gharibeye koochak). Keep checking Rotten Tomatoes for updates!
Audience Reviews for Bashu, the Little Stranger (Bashu, gharibeye koochak)
Bashu dealt with a very complex issue which was the cultural differences in Iran. It was masterfully done by one of the best directors of Iran, Bahram Beizai. Bashu was a young boy from South part of Iran who happened to end up in Northern part of Iran and experienced the cultural differences. In comparing these two parts of Iran, Beizai masterfully brought out the differences between the people, the climate, the costume and the language. Aside from the cinematography, director Bahram Beizai used supernatural touches to move the audience. Sussan Taslimi was tough and beautiful; the children acting in the film were amazing, the elders of the village were real, hateful, and could be human too. Very little dialogue moved the story along and the story was shot with trust and slowness. There was mystery of course and not all of it was explained. This was a very moving film, most Persian movies are and I recommend to anyone.
Daisy Maduro
Super Reviewer
Bashu, the Little Stranger (Bashu, gharibeye koochak) Quotes
There are no approved quotes yet for this movie.
Discussion Forum
Discuss Bashu, the Little Stranger (Bashu, gharibeye koochak) on our Movie forum!