Basket Case
(1982)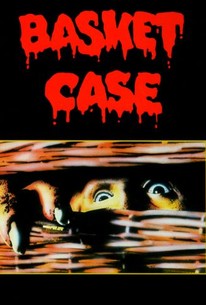 Movie Info
A strange young man arrives in the city with a basket under his arm, which turns out to hold his horribly deformed twin brother. The pair proceed to enact a bloody revenge upon the doctors who separated them at birth in this alternately humorous and terrifying cult item.
People Who Like this movie also like
Critic Reviews for Basket Case
Audience Reviews for Basket Case
Gruesome cinematic achievement by director Frank Henenlotter. Basket Case is a bizarre horror film that shocks with grisly images of horrific stop motion. A work of blazing originality, Basket Case is a fun homage to the old school monster flicks, and Henenlotter definitely knows how to pay tribute to the genre by creating something bizarre of his own. A terrific, gory film; Basket Case is a bloody ride as Duane's deformed grotesque brother, Belial (who's the creature in the basket) wreaks havoc on those who separated him from Duane. This is one bizarre and terrific film to watch, with awesome stop motion, Basket Case is very unsettling and is not a film to easily forget. This is a well made film that showcases creativity over budget, and the result is a highly entertaining picture that should definitely appeal to fans of bizarre horror films. Basket Case delivers something strange and unflinching, but is nonetheless worthwhile in terms of original entertainment. Acting wise, there is never anything great, but in terms of low budget horror, actor Kevin Van Hentenryck gives a decent performance, however the strength of the film lies in its shocking visuals. Frank Henenlotter's direction is terrific and he crafts a memorable and very bizarre picture that keeps the shocks coming and with hints of humor strewn throughout the film. Basket Case succeeds on many levels both in terms of shock value and overcoming budget constraints. Frank Henenlotter has always made some films, but this film debut ranks among his funniest, most bizarre and must see works. If you love grotesque horror, then give this one a shot, you definitely won't be disappointed.
This trash cinema classic was an early staple of VHS splatterfests, and even though it's definitely a dated film, the entertainment value still holds up. Basket Case is not just a horror film, it's sort of an amalgam of different things. It has some nice gory moments, some strange horrific scenes, an odd brother-to-brother relationship and also some great smile-inducing stop motion animation. It was shot for next to nothing and it really shows. Despite its lacking of financial resources, the film is fun and entertaining if you're in the mood for something strange or just different. It's hard to curry sympathy for a guy who basically is a willing accessory to murder, but somehow Frank Henenlotter pulled it off. It has two sequels, and as of this writing, I haven't seen any of them but since they were all directed by the same man, I wouldn't mind checking them out sometime. Definitely see it if you're a fan of Frankenhooker, or if you just want something less tasteful.
Tim Salmons
Super Reviewer
½
Ultra low budget gore fest concerning socially awkward Duane Bradley who checks into a New York Hotel carrying a large mysterious basket. He has to take care of some unfinished business. The run-down seedy hotel is rather depressing and the mood is spare and desolate. There's a feeling of hopelessness in the décor from the shoddy furniture, to the front desk manager to the guests staying within. What's in the basket and why Duane is there are questions best answered by watching the picture. The story is of the utmost simplicity, but what it lacks in narrative complexity, it more than makes up for in B movie entertainment. A decent plot with light comedy elements separates this from other cheapo horror of this ilk. There's a surprisingly amount of back-story as the narrative unfolds. Inexperienced Duane manages to captivate an attractive receptionist at the doctor's office to go out on a date. It's strictly amateur night in terns of acting, but there is some character development as the two hit it off arousing the ire of Duane's counterpart, who is apparently jealous. The production is the antithesis of sophistication. It can be kind of sleazy. A trashy tour de force where bright red blood is plentiful and thick like corn syrup. At times it's so abundant, it splashes over the actors in an unrestrained spalatterfest. However there's a hilarity in those tacky effects. Although not particularly frightening, it manages to be disturbingly weird. In the end, Basket Case is a horror film with enough creativity and bits of campy humor to make it fascinating.
Mark Hobin
Super Reviewer
Basket Case Quotes
| | |
| --- | --- |
| Duane Bradley: | No, he's deformed. A freak, he's like a squashed octopus. |
| | |
| --- | --- |
| Detective: | whats in the basket |
| Sharon: | What's in the basket? |