The Basketball Diaries
(1995)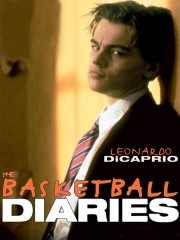 The Basketball Diaries Trailers & Photos
Movie Info
Very loosely based on the memoir of the same name, The Basketball Diaries transposes the late '60s adolescence of writer/artist Jim Carroll to some unspecified time period at least 15 years later, further confusing the timeframe with three decades of rock music, some by Carroll himself. Jim (Leonardo DiCaprio) and his Catholic school chums are on the hottest basketball team in New York, but their friend Bobby (Michael Imperioli) languishes in the hospital with leukemia. In-between typically boyish adventures, Jim scribbles in his notebook and experiments with sex and drugs. His group of friends begins to disintegrate after coach Swifty (Bruno Kirby) not only makes a pass at Jim, but also catches him and his pals using drugs on the court and kicks them off the team. Out of school and on the streets, Jim turns tricks, betrays friends, robs stores, and deals drugs to feed his heroin addiction. Not even the efforts of former addict Reggie (Ernie Hudson) can cure Jim. Mark Wahlberg appears as one of Jim's basketball and drug buddies, while Carroll himself makes a memorable cameo as an addict who describes the almost Catholic rituals of shooting heroin.
more
Cast
News & Interviews for The Basketball Diaries
Critic Reviews for The Basketball Diaries
Audience Reviews for The Basketball Diaries
"Man, who da hell axed you to suck dat dick!?"
½
Leo makes this movie awesome. His acting skills are amazing in this.

The film didn't really show Jim's spiral into addiction. It was kind of just like one minute he's clean, then the next he's a full fledged druggie. The plot was supposed to be based on a true story, but it was pretty damn unrealistic e.g. the guy falling off the roof, the coach being a pervert, the excessive mugging etc. It was all way too dramatized. I didn't like that.

Other than that, it was pretty good. Leo pretty much made the movie.
The Basketball Diaries Quotes
Jim Carroll: Don't let your mouth get you into something that your ass can't handle.
Jim Carroll: And it's good that there is rain. It clears the month of your sorry rainbow expressions, and it clears the streets of the silent armies... so we can dance.
Pedro: Holy shit, look at this place.
Mickey: Wow! I tell you what, if our school was this nice I'd go more than once a week.
Jim Carroll: You gotta have presence on the court. Presence like a cheetah rather than a chimp. Sure, they both got it, but Chimpy gotta jump his nuts around to get it. The shy cheetah moves with total nonchalance, stickin' it to them in his sexy, slow strut. Me? I play like a cheetah.
Discussion Forum
Discuss The Basketball Diaries on our Movie forum!
News & Features