Bat
(1926)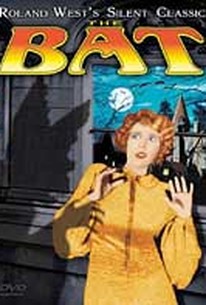 AUDIENCE SCORE
Critic Consensus: No consensus yet.
Movie Info
Rating:
NR
Genre:
Runtime:
Critic Reviews for Bat
All Critics (2) | Fresh (2) | Rotten (0)
Creepy, effective 'old dark house' thriller from Roland West.

Mountain Xpress (Asheville, NC)
Inventive - if confusing in plot - early thriller, that influenced both Batman and many old-dark-house films.
Classic Film and Television
Audience Reviews for Bat
[center][img]http://upload.wikimedia.org/wikipedia/en/f/f4/TheBat1926.jpg[/img] [left][font=Courier New][size=2]There are many movie incarnations of Mary Rinehart and Avery Hopwood's play [i]The Bat[/i], but the best adaptation will always be this 1926 silent film. [i]The Bat[/i] may seem like an obscure film, but it is a highly influential little gem. Elements of its whodunit storyline have been echoed in countless films since its release, and even Bob Kane has credited this film as being an influence for his legendary comic book character Batman. First of all, [i]The Bat[/i] is an amazing looking film. It doesn't have the grand scale that something like Fritz Lang's [i]Metropolis[/i] has, but the set designs in this film are impressive in their own way. Even the miniature sets used for the exterior shots are all nicely done, and fantastically filmed. And they all add to the great atmosphere of this movie. [i]The Bat[/i] is a brilliant little mystery filled with great acting, an awesome screenplay chock full of wit and a great looking villain. The movie centers around a bank robber, who has been deemed 'The Bat' by the press because of his curious costume and his ability to fly, who has just killed a president of a bank. Unbeknownst to a couple of people renting a mansion that was owned by the now deceased bank president, 'The Bat' has come in search of money hidden somewhere in the estate. What I've come to love so much about [i]The Bat[/i] is its sense of humor. The story that takes place in it is very cliche, even for its time, but the way it was carried I didn't mind at all. And I love how each actor portrays their character so differently from all the others. Emily Fitzroy was great as novelist Miss Cornelia Van Gorder, who is always knitting in the film and never changes her calm demeanor, even in dangerous situations. Then there is the completely neurotic maid Lizzie Allen (Louise Fazenda), who scares at the drop of a hat. Put those two together, as well as any other combination of any of the other characters, and you have some truly hilarious and memorable moments. The mystery surrounding 'The Bat,' and their identity, is handled rather well. The ending does feel a little rushed, but it ends on a high note. I've seen the 1959 version of [i]The Bat[/i], starring Vincent Price and Agnes Moorehead, but I didn't find the ending to be one that worked. But this silent version of [i]The Bat[/i] has a great ending, with a lot of twists and turns that makes for a successful and rewarding thriller. About the only moments in [i]The Bat[/i] that I had a problem with were the derogatory terms used to describe the mansion's Japanese butler Billy (Kamiyama Sojin). But I will forgive the film, since it was from a time when that was most likely the norm, and Billy is actually a decent character with some great moments himself. Other than that, [i]The Bat[/i] is one of the best mystery films you could possibly see, and one of the greatest silent films I've had the pleasure of seeing.[/size][/font] [/left] [/center]
Bryan Gomez
½
Excellent silent horror thriller, genuinely spooky and eerie. Well acted, fine direction. Suspenseful and very well done.
James Higgins
Bat Quotes
There are no approved quotes yet for this movie.
Discussion Forum
Discuss Bat on our Movie forum!