The Batman Superman Movie: World's Finest
(1998)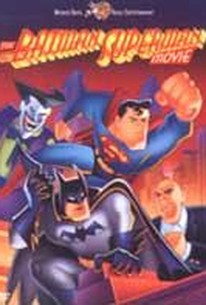 Movie Info
Rating:
NR
Genre:
, , ,
Directed By:
Written By:
On DVD:
Runtime:
Critic Reviews for The Batman Superman Movie: World's Finest
Audience Reviews for The Batman Superman Movie: World's Finest
In preparation for the upcoming Batman V Superman film, I've decided to revisit a few of each of the heroes' feature films, especially those where they come in direct conflict with one another. The Batman Superman Movie: World's Finest is yet another example of a film that gets the relationship of the two most iconic superheroes, right. The Superman animated series took 3 episodes and made it into a mini TV movie, and for the most part, it plays out very much like both Batman and Superman's shows. The voice talent of Mark Hamill and Kevin Conroy reprised their iconic voice performances as Joker and Batman respectively and head over to Metropolis for a few episodes. The plot is essentially the same plot that Lego Batman 2 followed years later, but it's always fun to watch the dynamics of these world famous characters done justice. Joker finds kryptonite and decides to strike a deal with Lex Luthor, voiced by the incredible Clancy Brown, in exchange for money. So sure, the plot is pretty basic, but it served a purpose in getting the caped crusader in Gotham in the first place. Bruce Wayne shares a relationship with Lois Lane which gave another reason for the two heroes to be on opposing ends of the stick. The dynamic was a little strange at first, but it grew on me a bit as it's really just a typical thing Bruce Wayne would do in that situation. The film's tone overall is very consistent with the animated series of the respected characters. So campy at times, and serious at other times. But if you're a fan of the animated series' than you would definitely be a fan of this mini movie. The voice talent is incredible overall and the animation is exactly what it should be in a film like this. It's predictable in every sense of the word, but the dynamic between the characters we know and love is why you watch a film like this. It's exactly what I would hope the Batman V Superman film will be like. +Voice talent +Dynamics are handled right -Nothing really new here 8.1/10
Thomas Drufke
Super Reviewer
I like how Batman and Superman team up as a partnership to fight Lex Luther or and the joker. Harley Quinn is jokers side kick. The animation to this movie was very good! This movie will be entertaining to see!!
Konrad Anders
I read on imdb that The Batman Superman Movie was just 3 episodes of The New Batman Superman Adventures put together to make 1 movie.Now I see why it felt like I was watching a longer Batman Superman Saturday morning cartoon episode.I think the only people that will truly appreciate this movie are diehard Batman Superman fans.Either them or Elementary school kids
Brody Manson
Super Reviewer
Discussion Forum
Discuss The Batman Superman Movie: World's Finest on our Movie forum!
News & Features