Battle of Britain
(2011)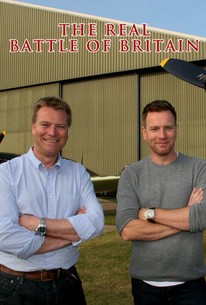 AUDIENCE SCORE
Critic Consensus: No consensus yet.
Movie Info
This documentary explains the series of events leading up to the Battle of Britain, when Nazi forces began bombing the country in continued waves, and details how Allied forces rallied to take back the skies from the Axis powers.
Rating:
NR
Genre:
,
Directed By:
On DVD:
Runtime:
Critic Reviews for Battle of Britain
There are no critic reviews yet for Battle of Britain. Keep checking Rotten Tomatoes for updates!
Audience Reviews for Battle of Britain
½
So Much to So Few Their average age, when they died, was twenty-two. They flew and fought--and died, over five hundred of them--protecting the United Kingdom from invasion by the Germans. The continent of Europe was overrun, and it was valiant Britain alone that held out, and the men of the RAF who kept the invasion from happening. Oh, they couldn't have done it without the material support provided by the United States, though that doesn't come up in this. However, without the bravery of those young men in their planes, all the American support would not have mattered. All the bullets in the world can't stop an army if there is no one pulling the triggers. Yes, part of the issue here was poor planning on the part of German high command; there were miscalculations made which saved the British, but that doesn't diminish what those young men did. Many of them weren't even British and were risking their lives not for their homeland but for an ideal. Brothers Ewan and Colin McGregor have long been fascinated by the Battle of Britain, that aerial war that prevented the success of Operation Sea Lion. Colin, the elder brother, is in fact in the RAF and has flown combat missions. However, one of the things he learns to do for this special is fly a propeller plane--an actual Spitfire, I believe, and what's more a Spitfire that itself flew in the Battle of Britain. The McGregor brothers also interview a few still-living pilots who fought in that battle. Ewan gets to ride in a Spitfire flying in formation and reports on the thrill of the experience. The special weaves together history, technology, and memoir, including interviews, technical specs, and archival footage of people like Churchill and Hitler. It's a simple documentary, but it includes quite a lot of information about its very specific subject. While I know a fair amount about World War II, the Battle of Britain is not one of the bits I know best. I bet my dad (a twenty-year man in the USAF) did, but Dad actually cared about planes, and I'm not terribly interested in them, myself. I can see what they mean when they say that the Hurricane was basically a biplane with the top wing cut off, but I would not have seen that if they hadn't first shown a drawing of essentially a Hurricane with two wings. I suspect Dad would have spotted it right off. However, I did think the documentary did a pretty decent job at balancing the kind of historical stuff that interests me with the kind of technical stuff that people like my dad would watch this thing for. I guess you could say that it's putting the engineering in context, and that's the way I understand engineering best--when they explain what it had to do with anything. It's a bit astonishing to think that the Spitfire was one of the fastest planes in the sky, but that it only went a tiny fraction of the speed of even relatively slow airplanes now. Jets were invented during World War II, though not early enough to really effect the outcome of the war. The fighters and bombers of the Battle of Britain were only prop planes. While in theory they are much less complicated than modern jets, it still took Colin McGregor some getting used to before he was really ready to fly one. The battles in the British skies took place at speeds attainable by most cars. It is also the case that more than a few of the deaths of British pilots were suffered at sea after their planes were shot down, something else Colin explores. Worst of all for those pilots was that there was no plan for retrieving them if they did end up in the water, so even if they survived the cold, they were pretty much screwed. I've never been able to get into the shows where Ewan McGregor rides a motorcycle some inordinate distance. I don't actually find him all that interesting as a person, you see. He's not a bad actor, though I bet he wishes Rotten Tomatoes wouldn't have chosen [i]Phantom Menace[/i] as their movie to remind us who he is, but just because I think someone is an interesting actor doesn't mean I'm interested in seeing them talk as themselves. This has the dual advantage of being both shorter and about something that interests me more. Oh, I wouldn't mind watching Michael Palin take the kind of motorcycle trip Ewan McGregor does, but you see, I do find Michael Palin interesting. I would have found this possibly even more interesting had there been less of the McGregor brothers in it--though Colin, oddly, was more interesting to me. There is also a striking resemblance between the brothers, though Colin is a bit puffier than Ewan.
Edith Nelson
Battle of Britain Quotes
There are no approved quotes yet for this movie.