Battle of the Damned
(2013)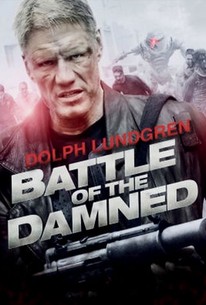 AUDIENCE SCORE
Critic Consensus: No consensus yet.
Battle of the Damned Videos
Battle of the Damned Photos
Movie Info
When a deadly virus is accidentally released into a major city, its population is quarantined by military blockade. And for a wealthy industrialist desperate to rescue his daughter from inside the rabid chaos, his only hope is former commando Max Gatling (Lundgren). Now Gatling has one day to bust in, blast through hordes of the undead, find the girl, and hunt for a way to get them both out alive. But will a small band of survivors and an army of killer robots turn his mission into maximum slaughter?
Critic Reviews for Battle of the Damned
There are no critic reviews yet for Battle of the Damned. Keep checking Rotten Tomatoes for updates!
Audience Reviews for Battle of the Damned
½
ok pic but begs the question how in a foreign city far away from USA all the survivoirs of a zombie illness are almost all white people?!?!?!
Greg Wood
An instant classic that has it all for action fans. It has zombies, robots, bullets, blood and pure wicked fun from start to finish. A wickedly entertaining and intense action shocker that's just spectacular enjoyment. A totally bad-ass and awesome movie. It's one of the most wild and simply one of the best movies of Dolph Lundgren's career. An action-packed chiller that will keep you on the edge of your seat. Lundgren is terrific, he plays a great character and tackling a new genre that he is clearly having a blast in. Director, Christopher Hatton crafts one of the most original and entertaining genre movies of the year. A pure blast.
Ever since "The Expendables" graced theater screens, it seems every veteran tough-guy star from the 1980s has become hirable again. Dolph Lundgren has starred in his fair share of straight-to-DVD action flicks in the past few years. He now moves into the sci-fi / horror B-movie arena with "Battle of the Damned." A movie that has Lundgren kicking butt and blowing away the "enemy" can only get better when you add zombies AND robots to the equation. Commander Max Gatling enters Thailand to rescue an industrialist's daughter from the clutches of populace infected with a virus that turns them into ravenous cannibals. He soon finds himself leading a small band of survivors across the destroyed city to be picked up by helicopter. As the masses of ferocious sick begin to overtake them, he does what any desperate hero would do to keep himself and his rag-tag group alive... he trains battle-ready robots to help take out every hungry creature they see. There's plenty of action, gore, and wanton destruction in "Battle of the Damned." It's about as good as it gets when diving into the world of sci-fi / horror B-movies. Did I mention robots? The real surprise with the robots is that they actually look good for a low-budget indie flick. The CGI used for them is quite convincing. "Battle of the Damned" is rated R for violence throughout and language. There's lots of digitally enhanced blood splatter as Lundgren chops and shoots his way through the crowds of walking dead. Of course you can't kill zombies without shouting expletives. One thing the movie doesn't have is any nudity or sensuality. "Battle of the Damned" will entertain anyone who loves B-movies that fit into the action, sci-fi, and horror genre. The best way to describe it is as a mix of "Night of the Living Dead" and "Escape from New York" with a sprinkle of "Battlestar Galactica" when it comes to the robots. If you can excuse some of the bogus digitally-enhanced explosions and fire, you'll find yourself pleasantly distracted for an hour and a half. http://contributor.yahoo.com/user/849014/eric_shirey.html
Eric Shirey
Battle of the Damned Quotes
There are no approved quotes yet for this movie.
Discussion Forum
Discuss Battle of the Damned on our Movie forum!