Battledogs
(2013)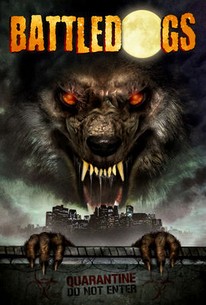 AUDIENCE SCORE
Critic Consensus: No consensus yet.
Movie Info
A werewolf virus has been unleashed in New York City, and now the world's only hope lies with an infected wildlife photographer (Ariana Richards) with a direct connection to the host, and an Army general (Craig Sheffer) who's determined to find the cure. Meanwhile, a rogue general (Dennis Haysbert) plots to create an army of werewolf super soldiers.
Rating:
NR
Genre:
, , ,
Directed By:
Written By:
In Theaters:
On DVD:
Runtime:
Studio:
Audience Reviews for Battledogs
½
Normally, I'm dead set against all of the remakes and reboots that have been permeating theaters this past decade or so, but in the case of the low-budget dud "Battledogs," I'll make an exception. There are some nifty ideas here that could have worked in a project with a lot more money behind it and with a better cast, and as bad as this is, you can at least say that it's ambitious. It's a hybrid werewolf movie mixed with elements of "Contagion," but the poor writing and extraordinarily awful special effects sink this at every turn. If I wasn't so bored by it I may have found some of it funny since so much of what transpires here is completely ludicrous. The werewolf effects are shoddy, but the budget is so miniscule that even the shots of aircraft are computer generated. That doesn't mean that some of this isn't fun to watch, like the wolves getting incinerated on the streets of Manhattan and entire bridges blown up with missiles, but it's so poorly done that at times you feel like you're watching a cartoon. There's a better-than-expected cast with several recognizable names, but none of them can convincingly pull off this inept dialogue. The script also has no shortage of cliches, such as the government wanting to use the werewolves as weapons of war, but you still can't help but wonder what some brighter minds would have been able to do with this idea. As it stands now, "Battledogs" is an idiot movie with a few decent images floundering in an astoundingly bad film. There are clearly aspirations of greatness here that could never be achieved due to its limited funding.
Timothy Sanders
I would love to tell you that this is an amazing gore-fest featuring non-stop werewolves, but there's actually just a ton of not-werewolves standing around talking to other not-werewolves. :( The cgi on the human-to-wolf transformations is good though. And the scenes actually featuring carnage are pretty epic. However, most of the movie focuses on pudgy dad-aged men doing an unconvincing job of impersonating military personnel. (I mean, I was expecting it to be mindless and goofy, but I thought there'd be more action.)
Sam Spade
Battledogs Quotes
There are no approved quotes yet for this movie.