Battlestar Galactica: Blood & Chrome
(2013)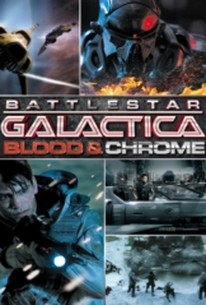 AUDIENCE SCORE
Critic Consensus: No consensus yet.
Battlestar Galactica: Blood & Chrome Photos
Movie Info
An all-new, unrated chapter in the Battlestar Galactica saga, Blood & Chrome takes place in the midst of the first Cylon war. As the battle between humans and their creation, the sentient robotic Cylons, rages across the 12 colonial worlds, a young, talented fighter pilot, William Adama (Luke Pasqualino, The Borgias), finds himself assigned to one of the most powerful battlestars in the Colonial fleet: the Galactica. Though Adama quickly finds himself at odds with his co-pilot, the battle-weary officer Coker (Ben Cotton, Alcatraz), the two men must set their differences aside when a routine escort mission with an enigmatic passenger (Lili Bordán, Silent Witness) turns dangerous and becomes a pivotal one for the desperate fleet.
Rating:
R
Genre:
,
Directed By:
Written By:
On DVD:
Runtime:
Studio:
Universal Pictures
Critic Reviews for Battlestar Galactica: Blood & Chrome
All Critics (0) | Fresh (0) | Rotten (0) | DVD (1)
Impressive effects and an intriguing roundup of surely doomed characters lend color and heft to the production.

Audience Reviews for Battlestar Galactica: Blood & Chrome
its entertaining but lacks of anything cool or awesome. I sat through it and I got it for free and I gave it a watch and it doesn't have much of an adventure or cool battle scenes. it goes slow but I feel like the plot doesn't make any sense or catches my eye. all in all not bad but not good just ok
aidan clarke
It was a good movie to watch;even better if your a BSG fan,CGI is great,chracters very likeable.Kept to the main story line of the BSG galaxy but felt it could have gone abit more deeper into backstory of the cyclon uprising. Especially those who are "New" to the Battlestar Galactica Universe! Still fun to watch and good starting point for New and Old fans alike! So Say We All!!
k. marcia
½
Much of the production team from the incredible Battlestar Galactica series - executive producers, writers, visual effects supervisor, composer - are on hand to bring this lavish, adrenaline-fueled movie set 10 years into the first Cylon War. Conspicuously absent though is the man who gave the show its true heart & soul, Ronald D. Moore. The followup Caprica series was not as well received by fans for its cerebral storytelling, so they went in the opposite direction with Blood and Chrome - this thing is almost all action. There are some dazzling sequences but some are too cluttered and chaotic. I never had trouble following the docu-style shaky cams during the series, but this new director doesn't possess the same skill level with the technique. I also tend to think they used a new effects studio as some of them weren't nearly as special as what we saw in the series. The sheer volume of effects sequences possibly required some cost-cutting measures. Another problem is the portrayal of Bill Adama as a young cadet who is an asshole right out of the box. I suppose they want to show his growth in maturity from a reckless hotshot, providing a Blood and Chrome series is on the way, but they went too far in creating a character who is by and large incongruous with the older Adama. I started to think of him as Chad Adama, Bill's misfit brother, and it worked much better. I liked much of the rest of he cast though, particularly Ben Cotton as raptor co-pilot Coker. All in all, it was great donning a flightsuit and manning a Viper once again, and the first sight of the Galactica brought a lump to the throat proving that there are many stories left worth exploring in the BSG universe.
Doctor Strangeblog
Super Reviewer