Bazaar Bizarre
(2004)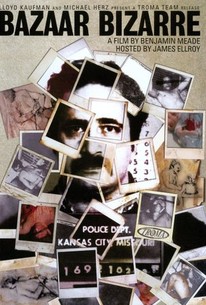 AUDIENCE SCORE
Critic Consensus: No consensus yet.
Movie Info
The darkest fantasies of a sadistic madman become a horrifying reality in filmmaker Benjamin Meade's chilling portrait of serial killer Robert A. Berdella. Had it not been for the naked and bloodied would-be seventh victim who mercifully escaped Berdella's tormenting grasp on the day before Easter in 1988, odds are that the horrific killing spree would have gone on unnoticed indefinitely. In addition to sexually torturing his six victims, Berdella also confessed to using electric shock on those unfortunate enough to fall into his hideous trap, pouring bleach into their eyes, injecting them with animal tranquilizers, and preventing them from crying out for help by injecting drain cleaner into their voice boxes. In perhaps the most sickening revelation of the grim proceedings, Berdella recorded every minute detail of his revolting actions in a shocking torture log that included graphic photographs of his hellish handiwork. For true crime buffs with a strong stomach and a taste for the macabre, novelist James Ellroy hosts a horrific look at one of the most shocking stories in modern history.
Critic Reviews for Bazaar Bizarre
All Critics (1) | Fresh (1) | Rotten (0) | DVD (1)
Too irreverent, lurid and expressionistic to qualify as journalism, yet too serious to be dismissed as mere exploitation.

Audience Reviews for Bazaar Bizarre
Hahahahhaah wTh wHO sPENt The Money On his Crappy Home Video This is the WINNER of the worst movie Ever I Hope and pray Some rilly good director gets ahold of the Bordello Horrors And Makes The Best Movie/documentary ill ever hope to see !!the victims Deserve to have their story told with Sum Reaspect this was an exploited version of the sad facts that took place in the hands of this Evil Being Sooo Dissapointed :( ????
angel marth
[font=Times New Roman][size=3]Quick preface: I am a big fan of True Crime Documentaries: American Justice, City Confidential and Cold Case Files are a few of my favorite television shows. I've also seen a good number of full length true crime documentary films. [/size][/font] [font=Times New Roman][size=3] [/size][/font] [font=Times New Roman][size=3]The True Crime Documentary genre (as far as I can tell) isn't a glamorous one – Most consist of a narrator walking the viewer through each crime's facts with the aid of interviews (almost always by people close to the crime), stock or actual case photographs/film and low-budget reenactments. Being visually "wowed" isn't the expectation you anticipate when popping one of these movies in to your player.[/size][/font] [font=Times New Roman][size=3] [/size][/font] [font=Times New Roman][size=3]I'll also add that previous to watching Bazaar Bizarre, I had (somehow) never even heard of Bob Berdella. I had seen James Ellroy in some other documentaries regarding his novel, The Black Dahlia and I will admit that I didn't care for his style of relating facts in that case.[/size][/font] [font=Times New Roman][size=3] [/size][/font] [font=Times New Roman][size=3]All that being said, Bazaar Bizarre is, by far, the worst documentary that I have ever seen, in the True Crime genre or otherwise. And I don't mean that in a So-bad-it's-actually-brilliant sort of way. In fact, within the first 15 minutes of this film, I actually had to Wikipedia Bob Berdella just to make sure that I hadn't been duped by a poorly produced mockumentary.[/size][/font] [font=Times New Roman][size=3] [/size][/font] [font=Times New Roman][size=3]Bazaar Bizarre is chocked full of lackluster and often overly opinionated interviews. I was repeatedly confused by the people being interviewed: were they qualified as close to Bob Berdella and his crimes or were they simply random Kansas citizens shocked by the crimes committed in their community. Even the interviews with actual victims were lacking… something. There was some footage from an old interview with Bob Berdella which was intriguing; unfortunately it was too short to glean any real clues about Berdella's background, mindset or reasoning.[/size][/font] [font=Times New Roman][size=3] [/size][/font] [size=3][font=Times New Roman]The reenactments, which I can only assume are bordering the realm of fiction (note the ridiculous Finger Soup scene), are so over-the-top they cease being the graphic images the director seemed to be going for and simply became laughable… only not funny enough to actually laugh. [/font][/size] [font=Times New Roman][size=3] [/size][/font] [font=Times New Roman][size=3]James Ellroy is presented as host, but he didn't come across as the host to me. He actually seemed more like an interviewee prone to these prattle. As I mentioned before, I've seen other interviews with Mr. Ellroy and although I'm sure he spends plenty of time researching true crimes for his novels – I have to wonder if his flowery interview style isn't somehow influence by the fiction he writes. Also, in other interviews I've seen, Mr. Ellroy has given me the impression that he's trying to present himself as a man on the verge of becoming a serial killer himself. That impression is not lost on Bazaar Bizarre – In his opening monologue, Mr. Ellroy seems to relish describing the sexual gratification felt by serial killers. It's bizarre, to say the least. [/size][/font] [font=Times New Roman][size=3] [/size][/font] [font=Times New Roman][size=3]Another odd part of Bazaar Bizarre is the band that performs a number of music videos complete with costume changes and, at one point, a demon back-up dancer. Granted the songs are about Bob Berdella, but -aside from adding at least a half an hour of film time- contributes little else. In fact, the somewhat humorous ditties are actually jarring against the otherwise serious tone of the rest of the film. [/size][/font] [font=Times New Roman][size=3] [/size][/font] [font=Times New Roman][size=3]Undoubtedly the most bizarre part of this already super strange little film is the very end when the director decided to go for the ever popular "Bloopers and Gags" credit roll. This included people who misspoke humorously during interviews and some shenanigans the actors got into while filming the sexually violent and sadistic reenactments. It was truly a surreal way to end this film.[/size][/font] [font=Times New Roman][size=3] [/size][/font] [font=Times New Roman][size=3]Overall, Bazaar Bizarre seems like something a group of mediocre albeit disturbed high school film students might produce right before donning trench coats and shooting up their school. It's only worth watching if you already have a thing for Bob Berdella or James Ellroy and even then I would be wary.[/size][/font]
Joda Babes
Bazaar Bizarre Quotes
There are no approved quotes yet for this movie.
Discussion Forum
Discuss Bazaar Bizarre on our Movie forum!