Beach Party
(1963)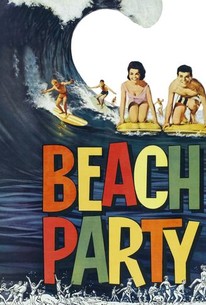 Movie Info
Professor Bob Cummings is an anthropologist who uses a telescope to study the mating habits of teenagers, namely Frankie Avalon and Annette Funicello. However, Cummings' secretary Dorothy Malone wishes that his boss would get his mind off bikinis and surfers. Meanwhile trouble brews when Eric Von Zipper (Harvey Lembeck) tries to abduct Annette. Watch for cameo appearances by Vincent Price and Elizabeth Montgomery.
Rating:
G
Genre:
, , , ,
Directed By:
Written By:
In Theaters:
On DVD:
Runtime:
Studio:
MGM
Critic Reviews for Beach Party
All Critics (7) | Fresh (3) | Rotten (4) | DVD (1)

a barrage of live-action cartoon madness aimed at the in-the-moment entertainment atmosphere of, well, a party.

First of the long-running series. Not that bad and good nostalgia

Mountain Xpress (Asheville, NC)
Audience Reviews for Beach Party
½
Don't waste your vacation on this stupid movie. As much as I like her not even Annette can save it. I know a lot of people know her from this series, but I wish she would have done more Disney movies instead. (First and only viewing - 5/5/2014)
Adam R
A bearded scientist type goes to spring break to investigate what's happening with those kooky kollege kids dancing and wiggling around next-to-naked and right in public, too, inaugurating American International Pictures sleazoid attempt to seize the youth market by defining it. Annette bravely plays a teenage Doris Day, the only girl on the beach not giving it up, but threatening to, dammit, threatening to alla time. So she's the only one Frankie wants.
Kevin M. Williams
Super Reviewer
Not Bad, as Bad Teen Movies Go Strangely, I'd never seen any of these before. Or more accurately, I've seen [i]Back to the Beach[/i], the cheap '80s reunion. This is strange because I saw [i]Back to the Beach[/i] in the theatre with my family. My mother is a huge fan of these things, or so she told us at the time, but even though we watched [i]Gidget[/i]--TV show, not movies, which I've never seen either--faithfully, practically the only Annette Funicello I've seen involves Tommy Kirk in one way or another. Admittedly, I don't know the history of rental availability of these. It could be that we never watched them because we never had the chance. These were produced not by a major studio but by American International Pictures, the studio which ruled the drive-ins of the day. Indeed, the film is self-referential, suggesting that its own plot would make a good AIP production. Which it must have done, given how many times they did it. Frankie and Annette are driving down to spend time alone together at a beach house. There is actually an implication of possible premarital sex, unto Frankie's carrying Annette across the threshold. But she wimped out and invited all their friends to stay with them. This angers Frankie, and he starts paying attention to Hungarian blonde Ava (Eva Six). All of this is being watched over by Professor Robert Orville Sutwell (Robert Cummings), an eminent anthropologist who is turning his eye to Southern California teenage beach culture. He rescues Annette from the dastardly attentions of Eric Von Zipper (Harvey Lembeck), and she swoons over him, as much to make Frankie jealous as anything. At first, Sutwell gets caught up in it, "going native" in the way feared by all good anthropologists, but then, there's his assistant, the lovely Marianne (Dorothy Malone). The whole thing boils over into one of the weirdest bar fights ever committed to screen. Looking at the pages for the other four Official Beach Movies, it appears that "Eric Von Zipper" was a recurring character. Frankie Avalon's character wasn't always called Frankie, though he mostly was--in [i]Back to the Beach[/i], his official character name was "Annette's Husband," and he was "Socum" in [i]Pajama Party[/i]--and Annette was only Annette in [i]Back to the Beach[/i], which I assume means they're all supposed to be different characters. However, they're different characters all being terrorized by the same Marlon Brando parody. I kind of want to see the rest of them now, to see if he's properly confused by the fact that everyone he ever meets turning out to be the same person. (I think there was a Cracked article about that recently!) He even appeared in [i]Dr. Goldfoot and the Bikini Machine[/i], where Frankie plays a character called Craig Gamble. Actually, the more I learn about that movie, the more fascinated with it become. I may have to watch it after all. Honestly, I was expecting this to be a much worse movie than it was. It's silly, of course, and it's never going to be mistaken for High Art, but it isn't terrible. The idea that teenagers would be the subject of an anthropological study isn't exactly original to the movie, but it isn't exactly a bad idea, either. I have no doubt that there were actually anthropologists doing it, though I doubt they were much like Sutwell. The beard he wears through the beginning of the movie is ridiculous and over-the-top, but it's intended to be. This is not a movie notable for its subtlety of mood and humour. This is a bunch of teenagers on a beach, not anything intellectual. On the other hand, it does prevent anthropology as a serious profession, and it gently mocks the kids for not really understanding much of what adults talk about. There is that painful moment when Annette (called Dolores, but who cares?) assumes that Sutwell's military service was during World War I, for example, which is the moment he realizes that he's not up for surrounding himself with teenagers after all. That being said, this movie doesn't much promote a generation gap philosophy. The world the characters inhabit is simply devoid of adults entirely except Sutwell, Marianne, and Cappy (Morey Amsterdam), who runs the local hangout. There is, of course, "Big Daddy" quiet in his corner, but he only gets a single line when it is revealed who's under that hat. (Which I will leave you to discover for yourself; suffice it to say that he was working for AIP at the time anyway and also appears in [i]Dr. Goldfoot[/i].) Other than that, these characters inhabit a world of teenagers. They speak a distinct language, but Sutwell puzzles it out quickly enough, so it can't be that complicated. Teenagers are teenagers here, and while there's nothing really wrong with it, there's also no reason to believe that they will stay as they are forever, either. This is not all life will hold for them; Frankie and Annette talk about school at the beginning of the movie. But this is where they are now, and that's all we care about.
Edith Nelson
Beach Party Quotes
There are no approved quotes yet for this movie.
Discussion Forum
Discuss Beach Party on our Movie forum!