Beachhead
(1954)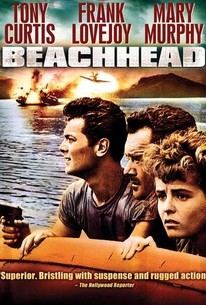 AUDIENCE SCORE
Critic Consensus: No consensus yet.
Movie Info
Set in the Philippines during WWII, this suspenseful and realistic war drama chronicles the courage of a unit of U.S. Marines as they try to save a plantation owner/Allied spy and his beautiful daughter from the Japanese who have taken over a densely jungled island.
Rating:
NR
Genre:
, ,
Directed By:
Written By:
In Theaters:
On DVD:
Runtime:
Studio:
United Artists
Audience Reviews for Beachhead
Patriotic WWII drama filled with rebellious youth, anti-Japanese sentiment and Hollywood theatrics.
Randy Tippy
Super Reviewer
½
Forgettable B-grade WWII movie with beautiful Kauai scenery. The acting was decent and plot mildly entertaining. I've seen better and I've seen worse.
Mara Barker
½
I almost fell asleep watching 30 minutes or more of this jungle WWII romp. Now, you may find it egrossing, so don't pass this one up as it proves once again, just where would Hollywood be without World War Two? Oscar nominee Tony Curtis "blends hard-hitting toughness with humor" (Los Angeles Times) as a Marine who must battle Japanese soldiers, private demons and fellow Marines in this "gripping" (Variety) World War II saga. "Bristling with suspense and rugged action" (The Hollywood Reporter), Beachhead is a classic war drama that delivers plenty of "emotion-stirring heroics" (Boxoffice). Four Marines embark on a hazardous island mission to verify reports about a secret Japanese minefield. The intelligence comes from a French planter - who may or may not be an Allied spy - and his beautiful daughter. If their story is true, can the Marines outgun their enemies, make it through the treacherous jungle, and rendezvous with American forces in time to prevent disaster? "On a Japanese-occupied island during World War II, only two soldiers remain alive after a mission attempt goes horribly wrong. Trapped on the island, they must escort a scientist and his daughter to the other side of the island where their ship awaits. They must battle nature, hard terrain, and advancing Japanese troops." Written by Jeremy Kirk NOTES: 1 One of Tony Curtis' early starring roles is this war film of a detachment of Marines sent out to locate a planter and verify a message he sent concerning the location of Japanese minefields on the island. 2 Said one comment: "When I watched this on tv as a kid, my small adolescent mind thought this was a gritty depiction of real world combat. I watched this yesterday on TCM and saw the most outlandish scene ever appearing in a war movie. At it's conclusion, a Japanese destroyer blows up a PT boat. When Tony Curtis spies an oil slick in the water, he swims out and tosses a grenade in the general direction of the PT wreckage. I couldn't believe what happened next. The oil slick catches fire, travels a mile or so to the destroyer and blows it up!!! Incredible! The fact that we didn't laugh at this scene in the 50's is absolutely amazing to me . . ." Beachhead Original Release Date: Jan 1, 1954 Cast Tony Curtis Frank Lovejoy Mary Murphy Edvard Franz Skip Homeier Crew Cinematographer: Gordon Avil Composer: Arthur Lange Producer: Howard W. Koch Director: Stuart Heisler Composer: Emil Newman Editor: John F. Schreyer Screenplay: Richard Alan Simmons Producer: Aubrey Schenck Gross:$1,400,000 (USA)
monsieur rick
Beachhead Quotes
There are no approved quotes yet for this movie.