El ataque de los pájaros (Beaks: The Movie)
(1987)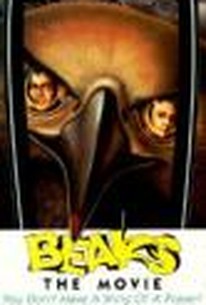 AUDIENCE SCORE
Critic Consensus: No consensus yet.
Movie Info
Spanish hack Rene Cardona, Jr. (of Aztec Mummy fame) directed this gory rip-off of The Birds (not a parody as its goofy title suggests) which follows a reporter/photographer team (Michelle Johnson & Christopher Atkins) as they investigate frequent reports of lethal bird attacks on humans. They eventually conclude that the attacks -- which are increasing in size, frequency and severity -- are part of an orchestrated avian plot against mankind. They could have saved themselves a lot of trouble by screening Hitchcock's classic chiller beforehand, just as viewers expecting a spoof of that film can save themselves the grief of enduring this bloody exercise, which pulls no punches in its graphic depiction of flesh-rending bird attacks. Gore-hounds should approve, as the makeup effects are painfully convincing, but die-hard Cardona fans may be disappointed to learn that no lady wrestlers actually step in to swat at the winged tormentors. ~ Cavett Binion, Rovi
Rating:
NR
Genre:
,
Directed By:
On DVD:
Runtime:
Critic Reviews for El ataque de los pájaros (Beaks: The Movie)
There are no critic reviews yet for El ataque de los pájaros (Beaks: The Movie). Keep checking Rotten Tomatoes for updates!
Audience Reviews for El ataque de los pájaros (Beaks: The Movie)
½
Ah, Beaks: the Movie (or Birds of Prey...or El ataque de los pájaros). Either way you say it, the end result is a laughable and somewhat boring nature run-amok film that is in no way better than, say, Alfred Hitchock's The Birds (though I will say that it IS much, much better than The Birds II: Lands End, strangely enough). Beaks centers on a reporter played by Michelle Johnson (Dr. Giggles, Waxwork) who looks way better these days than she did in this film (they do have her in "nude" scenes, but I'm pretty sure they are stunt titties). Sorry, got off track. She is also accompanied by cameraman/lover Christopher Atkins who, still somewhat hot from his role in The Blue Lagoon, began his fall from grace by starring in this and other low rent horror films, including Mortuary Academy, Shakma, and Dracula Rising. Wow, got off track again. Anyways, these two are reporting on several incidents involving bird attacks throughout Spain and Italy. As they begin to increase, a few kills happen, some bodies show up, and the climax involves a two part storyline with out two main characters riding out the danger in a train while and old man and his daughter celebrate his granddaughter's birthday party amidst a backlash of bird attacks. There's minimal gore and bird attack action, but for the most part, this film is rather tame, outdated, and boring. Good for a laugh or for true fans of nature run-amok horror films.
Jason Duron
Beaks - The Movie (aka "Birds of Prey") Starring: Christopher Atkins and Michelle Johnson Director: Rene Cardona A TV reporter and her cameraman (Johnson and Atkins) go globe-trotting in order to unlock the mystery behind a rising string of bird attacks. From eagles, to pidgeons, to chickens, birds are killing people... and they seem organized! "Beaks - The Movie" is an uninspired and, worst of all, boring copy of "The Birds." There's really nothing to recommend it; the closest the film gets to being suspenseful is a shot of hundreds of pidgeons charging across a plaza. (Although, if you love watching slow-motion footage of doves and pidgeons, you might find it worth while.)
Steve Miller
El ataque de los pájaros (Beaks: The Movie) Quotes
There are no approved quotes yet for this movie.