Bear
(2010)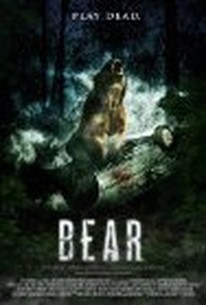 AUDIENCE SCORE
Critic Consensus: No consensus yet.
Movie Info
An idyllic trip into bear country turns into a nightmare when the mini-van carrying two brothers and their partners suddenly blows a tire on a mountain road and rouses the attentions of one of the inhabiting Grizzly population. Defiantly, one of the brothers, Wall Street hot-shot Sam, pulls out a gun and kills the curious creature. Big mistake! As the group head on into the woods, the bear's mate, a ferocious eight-foot-tall Grizzly, arrives on the scene and attacks. Trapped inside their van, fighting for their lives, the group must use their wits and every last drop of survival instinct they have to escape a fierce showdown with the claws of death!
Rating:
R (for language, some bloody images and brief sexual content)
Genre:
, ,
Directed By:
On DVD:
Runtime:
Studio:
Otter Creek Motion Pictures
Audience Reviews for Bear
I think it's safe to say that this is the worst movie I think I have ever seen. I think this movie is a step down from Black Water because much like Black Water, Bear is all talk and no action. Honestly, how can you build up a single bear to be a main conflict in a story. Some of the events that happened are just laughable because there is no way that some of these things can happen. This was a complete waste of an hour and a half so I strongly advise all viewers not to see it. The best acting out of the entire movie was probably the bear and that is not a compliment toward anyone.
Peter D
This movie had a lot of potential. It wasn't good, but I could tell the director really put in a good amount of effort into this movie. The movie is about two brothers and their girlfriends who take a shortcut through the woods with their car. I wasn't sure if they were going camping or going to an event, but either way the road damages their car so much that it gets a flat tire. One thing after another happens to their car- flat tire, broken axle, etc. It was kind of ridiculous. Anyway, while they try to fix the flat on their car, a bear approaches them from the woods. The one brother takes out his pistol and shoots it to death. Later, the bear's mate comes after them all to avenge the death of his bear friend. The movie was really short 88 mins. Everything happened so quickly. The characters weren't developed at all. There was a deeper story between the characters and I think the movie would have been a lot better had the characters been more 3 dimensional. You can't have a deep plot, if the characters are shallow. There were problems between the characters (affair, drugs, etc.) that literally came out of nowhere. The movie doesn't give you any hints about the problems between the couples, it kind of just throws it all out there while the characters are talking in the car. The script does all of the work in the movie, the actors don't do anything. For example (SPOILER), the one brother and girl had an affair (the girl however is married to the other brother). The movie doesn't give you any subtle hints that these two people had an affair. It just comes out in the script later in the movie. Out of nowhere one of the brothers says to the girl he had an affair with "You've been acting really cold to me lately, why?" Like really? I honestly didn't notice her being "cold" to him at all. They seemed quite fine and interacted with each other multiple times. They gave me no reason to believe that they were ever romantically involved with each other. The script works way too hard in this film. The director should have had the actors glance awkwardly at each other or something, and give subtle clues indicating something had happened between them in the past. Everything in this movie is said, not showed which for me was a problem. The actors surprisingly were not the worst actors I've ever seen; it was the script that was problem. The director tried to add depth, but he added too much depth. One problem after another kept arising between the characters. It was like an overload of money, family, drug and marriage problems. It was too much, and because the characters were 2 dimensional, the director's attempt at a deeper understory just failed even more. The bear scenes were really cool, but really not suspenseful. Creating suspense is hard, and I think if the characters had been more developed then there would have been some suspense there (because the audience would have cared somewhat about the individuals). The SFX was good too, however the car flipping over was really fake. Two guys could flip the car to its original right side up position? Bullshittt. It was so easy to tell the car was just a prop and not real. It took the guys like 2.5 seconds to flip that car. Come on now. I hated the ending of this movie too. I respect the effort put into this movie, but let's be real...the characters were dumb. Maybe if they had been more developed they wouldn't have appeared so stupid. The decisions they made were so illogical. Climbing trees like a motherfucking monkey, trying to fix a car after it rolled like 10 times and expecting it to drive out of that unfortunate situation like a boss....pleasee. Plot definitely needed some improvements. Like I said before, I could tell the director worked really hard on this film. He tried to add depth to the plot. The movie wasn't just about a killer bear, it was also about family and honesty and shit. The director tried to make the movie have a meaning. He didn't make a shallow piece of shit movie, he attempted to give it depth and a more purposeful story line. Unfortunately his attempt at film ended in failure and the movie is still pretty shitty, but at least he tried. I give him a B+ for effort. It wasn't another animal gone mad attack film with hot college kids, it tried to be something more than that. Most people are calling this movie dumb and pointless, but I believe it was not. Even if the bear was the best actor out of the bunch, this movie could have been something special! Maybe next time John Rebel, maybe next time.
Of the straight to video Bear thriller genre the cleverly named Bear is pretty good. As far as animal attack movies go, it's fairly middle of the road.
Ken Stachnik
Super Reviewer
Bear Quotes
There are no approved quotes yet for this movie.