Beast from Haunted Cave
(1959)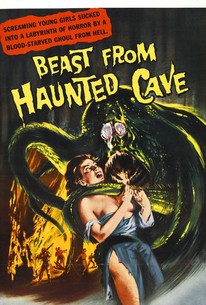 AUDIENCE SCORE
Critic Consensus: No consensus yet.
Beast from Haunted Cave Videos
Beast from Haunted Cave Photos
Movie Info
This is a horror film with a crime story background. Gill (Michael Forest) stumbles across a gang of gold smuggling thieves who are using his isolated cabin as a hideout. Gypsy (Sheila Carol) is his blonde bombshell companion. The trio of crooks are trying to escape with the gold to Canada. Everyone is in danger of the cobweb covered blood guzzling monster that appears out of no where in a variety of locales.
Rating:
NR
Genre:
,
Directed By:
Written By:
In Theaters:
On DVD:
Runtime:
Studio:
Critic Reviews for Beast from Haunted Cave
Audience Reviews for Beast from Haunted Cave
Low budget monster flick that has no thrills and doesn't even fall in to the so bad it's good category.
Jonathan Porras
Last night I actually came across a classic B film that I had never seen so I sat down to watch "Beast From Haunted Cave". The picture was directed by Monte Hellman. The same man who went on later to film the straight to video slasher flick "Silent Night, Deadly Night 3: Better Watch Out!" in 1989. This movie which was shot in South Dakota seemed a bit more risky in its choice of dialog than your typical 50's horror story. So right away I gave this picture a little more respect than I normally would. "Beast From Haunted Cave" tells the story of bank robbers fleeing in the snow who run afoul of a giant spider that feeds on humans. As for the character relations for "Beast" my opinion is much the same as my opinion toward any 50's films. I just don't get that people related to one another in such offensive and atypical repertoire. I guess the lack of modern technologies and information we now have really stunted people emotionally in prior generations. I am not sure what it is but even though I like a lot of old black & white movies I never quite comprehend peoples single pointed view of one another in the dialogue. It is just part of the culture gap thing, I guess. Anyway despite my ignorance of the 50's mentality I still enjoyed the fact that this movie was pretty progressive in its subject matter when it came time to display loose morals and wild behavior of the characters. Drinking at ten in the morning, premarital sex, and lude conduct, as much as the censors would have aloud in your 1953's cinema was ahead of it's time and showed the first signs of your now classic set up for creature features. There is the group of wayward souls set out in unknown territory, up to no good. Then you have the local legend, attention to animal attacks, followed by the reveal of the true monster plaguing the land. In "Beast From Haunted Cave" there is actually only one hint as to why this creature existed. Mining in the region had unearth some prehistoric creation. This is the only hint as to how the creature came to be that I could tell. It was also the only mention as to industrialism expanding into nature and the consequences' that could result. This film managed not to be arrogantly preachy. It was just your basic drive-in monster movie. I love it when movies just play out the story with out spelling out the set up or true intent of the picture. This was one of the first classic stories that felt like it was meant purely for entertainment. The story is a good simple one that just start, as if the story is already being told and we just peeked in during the crucial moments of these peoples lives. It was not over acted, well by 50's standards the melodrama was down played. The monster stays in the shadows except during crucial moments, so the fact that the creature looks cheap is excusable. It is a cool classic b-movie that I had never seen and I actually enjoyed it.
rick russ
½
Some gold diggin gangsta muthafuckaz go on a cross country ski trip, looking for the big score so they can move to Canada, but are stalked by a BEAST!!! The beast in question is a weird looking Chewbacca spider, that looks pleasantly ridiculous. This isn't a great film by any means, or even a very memorable one, but it is hard to hate it for what it is. A done on the cheap, mindless, old school creature feature. Pretty good times for b-movie fans.
Ed Fucking Harris
Super Reviewer
Discussion Forum
Discuss Beast from Haunted Cave on our Movie forum!