La Bestia nello spazio (The Beast in Space)
(1980)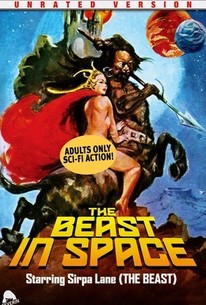 AUDIENCE SCORE
Critic Consensus: No consensus yet.
Movie Info
Sirpa Lane, star of the notorious art-house porno The Beast, returns to star in this unofficial sci-fi sequel produced five years after the original and featuring the triumphant return of the lusty, well-endowed man-beast. The story gets under way as Captain Larry (Vassili Karis) stops off at a local watering hole for a cool glass of Uranus Milk. After striking up a conversation with stunning blonde Sondra (Lane), Captain Larry is confronted by an angry merchant named Juan who had been attempting to work his charm on the girl. A barroom brawl ensues, and after Captain Larry defeats Juan he swipes a vial from him and takes Sondra home. The next day, Captain Larry receives word that the vial contained a highly valuable space mineral. The Star Fleet wants Captain Larry to travel to the planet where the mineral was found and bring back more, and they've assembled a skilled crew to accompany him on the mission. Sondra is a member of Captain Larry's crew, but she's distracted from her mission by recurring dreams where she's wandering through the woods and ravaged by a hirsute stranger. Upon arriving on the planet, Captain Larry discovers that it is ruled by an enormous robot that possesses the only known traces of the prized space mineral. Now, in order to accomplish his mission, Captain Larry and his crew will be forced to do battle with a powerful race of aliens that will fight to the death to protect their precious natural resource. ~ Jason Buchanan, Rovi
Critic Reviews for La Bestia nello spazio (The Beast in Space)
There are no critic reviews yet for La Bestia nello spazio (The Beast in Space). Keep checking Rotten Tomatoes for updates!
Audience Reviews for La Bestia nello spazio (The Beast in Space)
Super-cheesy Italian sci-fi adventure where a crew of salvagers travel to the planet Lorigon to find a precious metal only to find the planets' mysterious ruler not all he appears to be below the belt... much to the discomfort of poor Sirpa Lane. It's a real odd film at times but it's so enjoyably bad it kept me gripped just to see what happened next! The effects are hilarious and the supposedly intergalactic setting is laughable also. There's a fair amount of sex and nudity present as well as the film was kind of an unofficial sequel to the beastiality art-house porno La Bete from 1975. But to be honest the erotica scenes only slowed down the pace of the film as they dragged on for far too long. It's a billion light-years away from the likes of Star Wars but it's unforgettable whether you enjoyed it or not.
Cross the original Star Trek series with soft-core porn and throw in some mythological beastiality and that pretty well sums up this sleazy, semi-erotic trash. Subtitled in english.
A.D. Villarreal
Super Reviewer
La Bestia nello spazio (The Beast in Space) Quotes
There are no approved quotes yet for this movie.