De Battre mon Coeur s'est Arrêté (The Beat That My Heart Skipped)
(2005)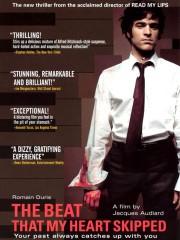 De Battre mon Coeur s'est Arrêté (The Beat That My Heart Skipped) Trailers & Photos
Movie Info
A man finds his heart and soul torn between loyalty to his family and a need to be redeemed from his violent lifestyle in this powerful drama from France. Tom (Romain Duris) is a man in his early thirties who finds himself caught between two very different worlds. Tom loves music, and longs to have a career as a concert pianist; he also has talent, and is taking advanced music lessons from Miao-Lin (Linh Dan Pham). But Tom supports himself working as a collection agent for his father, Robert (Niels Arestrup), a mid-level gangster and loan shark, as well as helping Sami (Gilles Cohen) and Fabrice (Jonathan Zaccai), two of Robert's cronies who put together crooked real-estate deals. Tom's hair-trigger temper makes it easy for him to adapt to the violent life of a gangster's muscle man, but he wants to give his creative side a chance to grow, and struggles to get his skills in order for an audition with a concert promoter interested in his music. Tom is also walking on a wire with his employers by having an affair with Aline (Aure Atika), Fabrice's wife, and is forced to mediate a bitter feud between his father and a Russian gangster, Minskov (Anton Yakovlev). A remake of James Toback's acclaimed directorial debut, Fingers, The Beat That My Heart Skipped (aka De Battre Mon Coeur S'Est Arrêté) was nominated for the Golden Bear award at the 2005 Berlin Film Festival. ~ Mark Deming, Rovi
more
Watch it now
Cast
News & Interviews for De Battre mon Coeur s'est Arrêté (The Beat That My Heart Skipped)
Critic Reviews for De Battre mon Coeur s'est Arrêté (The Beat That My Heart Skipped)
Audience Reviews for De Battre mon Coeur s'est Arrêté (The Beat That My Heart Skipped)
In De Battre Mon Coeur S'est Arreté, the main character, Tom, goes through many ordeals in a desperate attempt to find himself. He works, like his father, in "real estate", which is an euphemism for "breaking into abandoned buildings, brutally forcing the inhabitants out, and then selling them". He is immoral to no end, as are his friends and associates. However, as the film unfolds, it's clear that he did not only inherit his father's interests; the individualism he has suppressed tries to break free by wanting to follow the footsteps of his pianist mother. Tom gets an audition with the man who managed his mother when she was alive, and begins to try and juggle the tough, almost mob-like life he leads as a "broker", and his piano rehearsals.
Tom is such an interesting character. He looks very tough and insufferable and he seems not to give a damn about anyone except his father, but when he shows a sensible side, it's heartbreaking. He cares too profoundly about his father, even though it's because of him that he works at something that he doesn't really like very much. His father sometimes uses him to get rent from stubborn tennants... and although Tom knows he's being manipulated, he can't say no. The father-son dynamics are very well developed and they are one of the many inner currents that suck you into the film. Audiard is very good at directing partnerships in which what is said isn't as important as what is implicit; he's an excellent actor's director.
As Tom begins to delve into piano playing, his sensibility begins to awaken from the somber letharg it had been in. When Tom works he is often in dark, dirty, unhealthy environments, frowning and swearing, whereas when he plays the piano, atlhough it enrages him not to play perfectly, he knows he has to unlink himself from that inhuman world. The piano becomes his escape, and his rediscovered love for art begin to form in him a desire to be a better person. Thanks to that he falls in love. And he begins to find his work revolting.
The drama kicks in with subtlety. The turning point is difficult to grasp; the film flows so harmoniously. But soon the problem will be fully exposed: Tom can't marry his job and his love for music. He can't quit either. Something very big has to happen. He detests his job but he's too intimately bound to it... he can't let his father down.
I thought this conflict was very original and very involving. I could feel very closely Tom's desperation and the different attitudes he takes in front of the difficulty of being his own person. A 28 year old man who is, all of a sudden, trapped, just while he is on the brink of making the most important change of his life.
Audiard's narrative is one of the highlights. He relies very much on visual language, and he does "speak" it with immense clarity. His dialog almost never makes reference to the great themes of the film, but they are always clear. I think what adds to DBMSE's charisma is that illusion of uncertainty. Which was the exact case of Sur Mes Levres, another great film.
Romain Duris is the force behind it all, though. He delivers a really fine, torrid performance... captivating when he wants to get his way, and tortured in front of his challenges. Most importantly, he plays Tom with contained passion and charming wickedness, which, in my opinion, defines him during the first hlafof the film. Later on, after the character discovers the changing power of art, he becomes eager, wide-eyed, excited but terrified. Duris evidences these changes so naturally it even seems careless.
Behind the violent premise -Tom's "business"- is a complex film. It's accessible but it requires attention and openness. This isn't just the story of a gangster "getting soft", it's about a person struggling desperately to be independent. Regardless of where that independence will lead him. Audiard seems to be a fan of people going to their limits and then exceeding them.
½
[font=Century Gothic]In "The Beat that My Heart Skipped", Tom(Romain Duris) is a young man who takes after his father(Niels Arestrup) by working shady real estate deals. He also occasionally does favors for the old man when a bit of force is required. While driving past a concert hall, Tom notices his mother's former agent, Mr. Fox(Sandy Whitelaw).(Tom's mother was an accomplished concert pianist and he had aspirations in the same direction...) After inquiring about whether he has kept up his playing over the years, Mr. Fox hands the young man his card and an offer to audition...[/font]

[font=Century Gothic]"The Beat that My Heart Skipped" is a remake of the massively overrated "Fingers" starring Harvey Keitel. It is also the very rare remake that is superior because of all remnants of James Toback's psyche having been purged and a better central performance which sheds more light on the lead character's mental state.(Or maybe some movies play better in French...) Tom is an impulsive man(which helps in his affinity for violence), and has had little patience required for the career of a concert pianist in the past. Additionally, he is a charming man but has had trouble maintaining relationships and lives alone.[/font]

[font=Century Gothic]Note: My interest in seeing a remake depends upon my feelings towards the original work. For example, I do want to see the "All the King's Men" remake because I can hardly remember the original. On the other, I very much liked "Infernal Affairs", so I'm not going to go near "The Departed."[/font]
De Battre mon Coeur s'est Arrêté (The Beat That My Heart Skipped) Quotes
Discussion Forum
Discuss De Battre mon Coeur s'est Arrêté (The Beat That My Heart Skipped) on our Movie forum!
News & Features